Nuna vs UPPAbaby Car Seats
One of the most significant baby gear purchases parents will make is a cat seat. As a mobile parent, a car seat for your infant is one of the essential things you need to add to your baby registry. A baby car seat helps you be assured that your baby is safe while driving.
This is one reason you want to get the best baby car seat for your little one. You want them to be secure while you focus on driving. Two brands that are well known for their baby car seats are Nuna and Uppababy car seats. 
Nuna vs. UPPAbaby is a match going on in the car seat community, and if you have been looking for the best car seat, you have probably come across these two brands. They are known for their features, including a carrying handle, a canopy, LATCH and seatbelt installation, and a harness.
Knowing which one is perfect for your baby can be a challenging selection, but you do not have to worry as we have made it easier for you. Our team of experts spent hours researching and testing these car seats from the Nuna and Uppababy brands. In this review, we will be providing you with all you need to know about these brands based on their features, differences, similarities, pros and cons. 
Nuna vs UPPAbaby: Which is Better?
There are similarities between the two seats, and at first glance, they appear almost identical, but there are a few differences that might help you decide.
Overview: Nuna Pipa Vs UPPAbaby Mesa
UPPAbaby MESA infant car seat is the go-to choice for many families considering a UPPAbaby stroller, and the same goes for families considering a Nuna stroller. According to the American Academy of Pediatrics, Mesa and Pipa are exclusively rear-facing, which is the safest position for very young children.
Additionally, they share many features that should be present in an infant car seat, including a carrying handle, a canopy, LATCH and seatbelt installation, and a harness. The UPPAbaby MESA and Nuna PIPA are top-rated for safety,  ease of use, and quick installation. Let us do a brief overview of each of them.
Nuna PIPA Infant Car Seat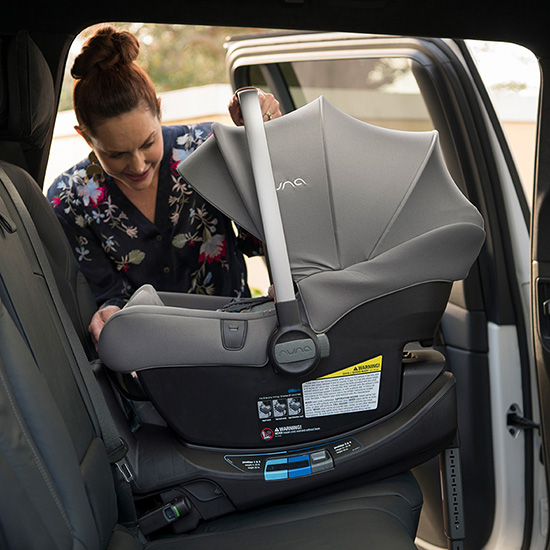 According to consumer reports, the Nuna Pipa infant car seat is a top-rated car seat. It comes with all the regular safety features, like the front and side-impact protection and a 5-points harness.
But the Nuna Pipa has additional side impact protection and a  steel load leg that extends from its base to the floor of your car, which adds stability, absorbs impact energy and pulls force away from your baby in case of a crash.
Asides from being a safety-conscious car seat, it comes with machine-washable fabric free of flame-retardant chemicals and metal LATCH connectors for easy installation.
One feature that makes the PIPA a best-seller is an innovative "Dream Drape" cover that protects the baby from the elements.
The Nuna Pipa infant car seat is adaptable with strollers from Nuna, UPPAbaby, and several other brands.
Nuna Pipa has 4 versions. They are PIPA LiteP, PIPA Lite R, PIPA Lite LX and PIPA Lite RX. These versions are the lightest in the market, weighing over  2.5 pounds less than the original PIPA and other car seats.
The Nuna PIPA RX, Nuna PIPA Lite R, and Nuna PIPA Lite RX have a RELX base that offers four recline positions and more adjustable components, which allows the base to fit a greater range of vehicles and makes installation easier.
Features
Side impact protection: this gives extra protection to your baby as you use this stroller. 

5-point harness

Machine-washable: the fabric is machine washable 

Easy installation: This seat is  easy to install, so you don't have to stress yourself; this makes it even safer

The Nuna Pipa provides additional adjustment options to ensure the perfect fit, such as rotating LATCH connectors to install the seat as snugly as possible and multiple load leg locations to fit more vehicles.

Compatible: the Nuna Pipa infant car seat is compatible. Due to its greater adaptability, the Nuna Pipa is a better option if you want to use the car seat with a double stroller, travel stroller, or jogging stroller.

It can use for babies between the range of 4 to 32 pounds 

It can be used for babies up to 32 inches

It has the FAA certification 

It comes with a light handle 

The weight of the car seat alone is 7.9 pounds.

Easy to clean 
Pros 
It is Compatible with a wide range of strollers, making it easy for the parent to take it on travels, jogging, and many more.

It is made of Materials that are free of flame-retardant chemicals

It comes with a Steel stability leg that helps  absorb impact energy

It was made to be safe for babies 
Cons
One of the things some parents complained about was that the harness needed to be threaded.

Expensive
UPPAbaby Mesa Infant Car Seat
By using the UPPAbaby MESA with a UPPAbaby stroller, you can easily have the easiest travel systems:
Simply attach the car seat directly to the frame of the UPPAbaby VISTA or CRUZ stroller, and disconnect it by pressing a button on top of the handle.
The UPPAbaby Mesa is not only sleek and stylish, but it also boasts superior ease of use ratings, according to the National Highway Traffic Safety Administration (NHTSA).
It has tightness indicators on the seat that turns from red to green to show you when it is safely secured. You can install the UPPAbaby Mesa with its base or a seat belt only.
The Mesa does not have a steel load leg like the Pipa, but it has side impact protection and an adjustable headrest with expanded polypropylene (EPP) foam wings that help keep babies safe as they grow.
Features
it has side impact protection giving extra safety to your baby 

It has an adjustable headrest, unlike the Nuna with expanded polypropylene (EPP) foam. 

It is Machine-washable; the Fabric is easy to remove and clean

Easy installation: it uses the SMART, secure system making it easy to install

The UPPABaby comes with a non-slip handle that helps you keep your grip, and its shape is designed to make it easy for you to use

It is suitable for children between this weight range of 4 to 35 pounds

It is ideal for kids up to the Height of 32 inches

It Comes with an infant insert

It also comes with a canopy that has an Ultraviolet Protection Factor (UPF) of 25+

It is easy to clean
Pros 
It is easy to use and install

It does not require you to reread the harness, which helps it easily adjust.

It is made of a breathable fabric 
Cons
It is not compatible with most other stroller brands

It is much more Heavier 

It does not come with much sun cover with the canopy.
NUNA PIPA VS UPPABABY MESA
Nuna vs UPPAbaby : Pricing
The starting price of the UPPAbaby MESA is slightly lower than the Nuna PIPA, but they both have higher-priced versions of their car seats. Two-colour variations of the UPPAbaby MESA – Henry Blue Marl and Jordan Charcoal Gray cost an extra $50 because they are made of naturally fire-resistant merino wool instead of polyester. Merino wool helps to regulate the baby's body temperature, keeping her cool on warm days and warm on cool days.
The Nuna PIPA Lite models also have an increased price because of their materials. The PIPA Lite models are made of a  lighter and more flexible foam than most car seats. The Pipa LX and RX versions cost $50 more than the Lite because of their magnetic Dream Drape cover and merino wool fabric. PIPA Lite R and PIPA Lite RX have an additional cost of $50  because of the RELX base, unlike the original PIPA base models.
Price Guide: MESA
MESA Infant Car Seat – Henry (Blue Marl) Wool Version – $359.99 (Buy it on Amazon)
MESA Infant Car Seat – Jake (Black) – $299.99
UPPAbaby MESA Infant Car Seat -Jordan (Charcoal Melange)Merino Wool Version/Naturally Fire Retardant – $349.99
MESA Infant Car Seat – Bryce (White & Grey Marl) – $299.99
Price Guide: Nuna PIPA
PIPA – $319.95
Lite – $349.95
Lite RX – $499.95
RX – $379.95
Lite LX: $399.95
Lite R: $399.95
Nuna Pipa vs UPPAbaby Mesa : Weight and height
Weight Measurements
The Nuna PIPA Lite models are light-weighted infant car seats with 2-4 pounds less than most others. Mesa weighs 9.9 pounds while Pipa weighs  8 pounds and its lite models weigh between 5.3 – 7.5 pounds.
Weight and Height Limit
The weight limit for infant car seats is similar and can be used for about a year. The weight limit for Nuna PIPA Series is 4 to 32 pounds, and the height limit is 32″. UPPAbaby MESA has a weight limit of  4 to 35 pounds and a height limit of 32″
(Please note that Nuna weight measurements do not include the canopy or insert, and these components normally add about 1.5 pounds to the seat.)
Ratings
According to Consumer Reports, the Nuna PIPA infant car seat earned a "best" rating, while the UPPAbaby MESA infant seat earned a "better" ranking for crash protection.
Despite coming slightly below in the ranking for crash protection, the UPPAbaby MESA scored marginally higher in Consumer Reports' overall rankings with an overall score of 72, while the Nuna PIPA earned an overall score of 67. Based on ease of use, The National Highway Traffic Safety Administration, UPPAbaby MESA earned the highest score of five stars in every category.
In comparison, the Nuna PIPA earned an overall score of four stars. The NHTSA rankings evaluate instructions and labels, installation, and securing of the child.
UPPABABY MESA VS. NUNA PIPA: Compatibility
The Nuna Pipa is compatible with a broader range of strollers compared to the UPPAbaby Mesa. This makes the PIPA a more versatile choice if you want to use the car seat on a jogging stroller, travel stroller or double stroller.
UPPABABY MESA VS. NUNA PIPA: INSTALLATION
Installation with seat belt
Although the Nuna PIPA can be installed with a seatbelt, the PIPA Lite and Lite LX versions cannot, which means it must be installed using the base.
There are two routing systems (European and American routing methods) to install a Nuna Pipa seat with the seat belt.
Use the belt guides to thread the lap belt through
Then thread the shoulder belt through the blue belt guides on the back of the seat.
Push down on the seat, pull the buckle, and push the back of the car seat.
Move the car seat from side to side and front to back to check for movement. It should not move more than one inch.
Check the level line and move the car seat around to ensure it is appropriately reclined.
American routing method
First, thread the lap belt through the belt guides.
Buckle the lap belt.
Check the level line to ensure that it is level with the base. You can pull out your seal belt to lock it if necessary.
Make sure the car seat moves no more than one inch by pushing down and back. The Nuna Pipa should be put back in the car seat from behind, and the slack should be pulled up if it moves more than one inch.
Recheck for movement.
How to Install UPPAbaby Infant Car Seat with be
Installation with BASE
Based on the manufacturers, UPPAbaby mesa and Nuna Pipa infant car seats can be installed with the base in seconds, using either the LATCH system for convenience or the vehicle seat belt.
To install the UPPAbaby MESA:
Level the base till the indicator turns green.
Remove the LATCH connectors from storage by pressing the orange button on top of the base
Install the LATCH connectors on the lower anchors.
Press down on the base until the tension indicator turns green.
To install the Nuna PIPA :
Slide the connectors into the lower anchors and wait till the indicators turn green to indicate a secure connection.
Turn the load leg until it hits the floor of your car, and the indicators turn green.
You can check the bubble indicator on the side of the base to see if it's level. If it's not, pull the recline foot on the underside to create a more reclined angle or adjust the length of the load leg.
Pros and Cons of UPPAbaby Mesa
Pros
Highest rating for ease of use
Easily Connects and disconnects to UPPAbaby VISTA and CRUZ strollers without the need for adapters a
Requires less adapters than PIPA when you use VISTA as a double stroller
Color-coded Tightness indicators
easily adjustable harness buckles as the baby grows without disassembling the seat
Adjustable headrest is lined with EPP foam for added protection and comfort as your child grows.
Self-retracting LATCH connectors
fire-resistant fabric on some models
Machine-washable cover
Less expensive than Nuna Pipa
Cons
Lacks the safety features of Nuna Pipa (i.e. steel load leg base)
Not compatible with a wide range of other stroller brands
It is not as light as Nuna Pipa.
Pros and Cons of Nuna Pipa
Pros
The steel load leg in the base reduces the rotation of the car seat by about 90 %, It absorbs forces and minimizes impact on the baby, which is very good for safety.
Compatible with a broader range of stroller brands and types than UPPAbaby MESA
PIPA Lite versions are lighter than UPPAbaby MESA
All the versions do not have flame retardant chemicals.
It has a leatherette handlebar
PIPA, PIPA RX and PIPA Lite LX have a dream drape cover that attaches with magnets to provide complete sun protection
The RELX base on PIPA RX, PIPA Lite R and PIPA Lite RX offers more adjustability than most car seat bases which allows four recline positions and reduces installation problems.
The LATCH connectors are rigid, which makes installation
Cons
It costs more than MESA (with about $100 to $200 difference depending on model)
Harness must be threaded (on all versions except PIPA Lite RX) through the back of the seat to make adjustments as the baby grows
The headrest is non-adjustable (on all versions except PIPA Lite RX)
Three of the PIPA Lite versions cannot be installed without the base for taxis and travel.
The cost of extra features is higher compared to UPPAbaby Mesa. For example, the extra Nuna Pipa car seat base is $159.95 for PIPA base and $199.95 for RELX base, but it is $129.99 for MESA \
How We Reviewed The Nuna And Uppababy Car Seats
Safety
Finding the most secure infant seat may be difficult. Many parents waste a lot of time on this. The options are minimal. When we were looking at both of them, safety was one of the most important things we looked at as a major factor. What is unique about these two brands is how far they are willing to go.
They are always developing new safety features that give your children more safety. According to parent reviews, Both car seats have high safety ratings. 
Installation 
Finding a car seat that is simple to install is the most challenging aspect of using car seats. Fortunately, installing any of them is simple both UPPA and Nuna.
You must understand how fast or difficult the mounting process is so we reviewed each of them by their installation process which should not be too complex and difficult. If you purchase from this brand, you won't need to worry about the installation part. 
Material 
Another crucial aspect we looked at was the material. From minor drink spills to more serious ones like vomiting or blowouts. It needs to be cleaned up by someone. Sadly, you are primarily that person. This is the reason I describe the fabric in depth. You must purchase the simplest cover to remove and clean if your child suffers from motion sickness.
Size Limits
Another major factor is the size limit that will be considered when doing our review; we looked at how much it weighs and the limits to which it offers protection.  If you've been looking for the ideal infant car seat for a while, you may have already come across the Nuna Pipa and the UPPABaby Mesa.
There are a few differences between these two seats that might be able to assist you in deciding between them, even though they are comparable in many respects and initially appear to be almost identical. Here, we compare and contrast the Nuna Pipa and UPPAbaby Mesa car seats and explain how to pick the right one for you.
Similarities Between the Nuna and Uppababy Car Seat
 

With side impact protection and fabric options free of chemical flame retardants, the Nuna Pipa and UPPABaby Mesa infant car seats are both highly rated for safety.

For UPPAbaby Mesa,  Merino wool was used to create the cloth. It doesn't contain any hazardous substances.

The Nuna Pipa also incorporates environmentally friendly materials like UPPAbaby mesa. It is constructed from organic cotton. They also don't employ any hazardous chemicals.

You can install UPPAbaby Mesa with or without the base. The base install is straightforward. The latch connectors need to be pulled out. The UPPA and Nuna Pipa operate similarly. It simply has a slight upgrade in sophistication. Using the latch method, you can gauge how well a connection is made. If it's green, you did it correctly.
Differences Between the Nuna and Uppababy Car Seat
The UPPAbaby  Mesa does not have a steel stability leg, but the Nuno pipa has a steel stability leg to absorb impact energy to protect the baby.

With a weight limit of 35 pounds as opposed to the Nuna Pipa's 32 pounds, the UPPAbaby Mesa is higher.  Although three extra pounds may not seem like much, they allow you to utilize this seat well into your child's toddler years, especially for smaller babies.

The Mesa is more expensive than the Nuna Pipa and weighs roughly a pound more. This may not seem like much but bear in mind that as your baby develops, the seat will get heavier to carry, and if you carry your child about a lot, even a few pounds can make a difference in how comfortable you are.
Auto-adjustable straps are included with the UPPAbaby Mesa. All you have to do to change the straps is alter the headrest, unlike the Nuna Pipa. They need to be manually rethreaded.
VERDICT
The Nuna PIPA and UPPAbaby MESA are recommended car seats for their safety, ease of use, quality, comfort, and style. While Nuna Pipa is more pricey than UPPAbaby, it is also more compatible with other strollers. The ball is in your court to decide which one better suits your family. The review has made the work easier as you can check through their features, Pros, and cons to know which one you prefer.