Graco Baby Swings Review
Baby swings are parents' companions. They help to ease the stress of parents while allowing them to rest a while especially when you are taking care of newborns. 
One of the top brands of baby swings is the Graco baby swing brand. They are made to keep babies comfortable and happy, so let them spend peaceful, quiet hours. With over 60 years of experience, they are known to make lives easier for parents while making quality baby products.
Graco has a variety of baby swings, and selecting one may be quite challenging. You don't have to worry because we have taken our time to research the different Graco baby swings so you can know which one suits your family's needs. We will be sharing with you Graco baby swings review, their features, pros, and cons. 
How We Reviewed Graco Baby Swings 
Portability

:  How easy is the product to bring from room to room? Graco baby swings are Portable swings that can fold easily and are lighter than traditional swings. Sometimes the legs will telescope to different heights as well. Many portable swings only allow for a forward-backward motion, so if your baby prefers to swing side-to-side, there may be better choices than a portable swing for you. According to your space and requirement for mobility, you can choose between a full-size swing and a smaller, more transportable travel unit designed by Graco. Portable swings are frequently less expensive than full-size swings.

Music and Sound:

Graco Baby swings have lots of features! Graco swing models with many bells and whistles often include various music and sounds. It also comes with Controls that let you set the volume to a level that works best for your baby. Sometimes, music and sounds can be played at the same time.

Price:

Graco baby swings come in various sizes, styles, and feature offerings. Pricing for these swings is just as varied. Graco baby swings come at different prices, so you can pick one that works with your budget. 

Easy to clean:

 Graco Baby swings were made with a removable, machine-washable cover or a waterproof fabric that's easy to wipe down. Remember, drool, spit-up, and diaper overflow are common in your baby's early months, so with Graco baby swings, you don't have to worry about the stress of cleaning because they were designed  to be machine washable and easy to clean 

Safety Harness

: To protect your baby from falling out of the swing seat,  Graco manufacturers built a fixed harness restraint system for their swings to protect your baby. They have 5-point safety harnesses with over-the-shoulder straps on their swings. Graco swings were designed with a permanent harness restraint system to stop your kid from slipping out of the swing seat. Most have a 3-point harness that crosses the waist and passes between the legs. However, some have a 5-point harness with over-the-shoulder straps. Graco prioritizes the safety of your kid over everything else. Therefore, everything is done to keep them safe.

Speed and Motion:

Choose which of the Graco baby swings your baby might find most calming. Make a wise and relaxing swing speed investment. With Graco Swings, you can choose from various speeds (start at the slowest pace and adjust it to your baby's preferences). Their swings sway side to side or back and forth. Some of their newest baby swings feature additional motions, such as up-and-down "hops" or side-to-side swaying akin to a car. Some of their swings may also glide back and forth like a glider rocker for a nursery.

Comfort:

Graco swings have seats that recline almost flat, which is suitable for newborns. Graco swings have their seat cushions padded for your baby's comfort. It has musical toys which help to entertain your baby. Graco keeps your baby's comfort in mind while designing a suitable swing, so everything is ideally kept in place. 

Graco Baby Swings
Graco DuetSooth Swing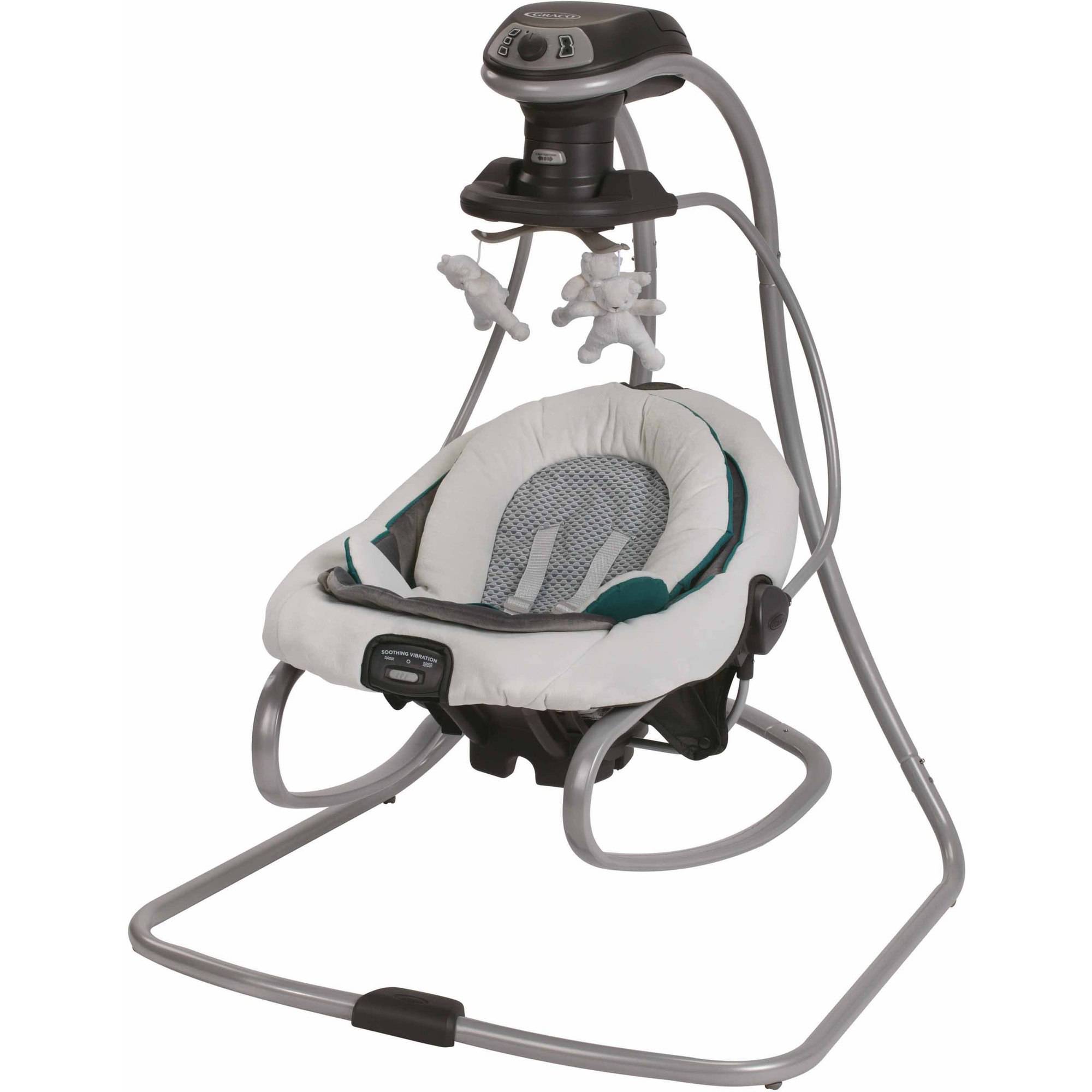 The Graco DuetSooth Swing is a 2-in-1 swing as it can work as a swing and a rocker. It can be detached easily or used as both. It has a five-point harness that can be used in the swing or rocker setting.
This swing can be powered by plugging it into a power outlet or using batteries. It includes a variety of songs and sound effects to entertain your baby. It is suitable for babies from 5.5 to 30 pounds in swing mode but 5.5 to 25 pounds when it is used as a rocker.
Pros
It can be used in battery mode or using an outlet.
The swing features both a baby swing and a rocker. 
It includes different songs and sound effects to soothe your baby.
Cons
It does not have adequate head support for newborns.
The swing could be more portable.
Graco Simple Sway Portable Baby Swing
 This is an example of a portable baby swing. You can easily move it from place to place. It is filled with numerous features to help soothe and comfort babies. Your baby can be soothed by this swing's six swing speeds and light vibration without you having to push or rock the infant. The gentle, side-to-side swaying motion keeps the baby relaxed throughout the day. It is easy to put together, durable, and made of high-quality materials. It has two distinct vibration speeds and fifteen sounds and songs. Battery or A/C adapter power options are available for the swing.
Pros 
It has a compact frame design that allows for easy storage, as it can fit anywhere. 

The swing is user-friendly and can be easily assembled.

It can be either plugged in or battery-powered.
Cons
It offers only side-to-side swings

The seat has a fixed recline position.
Graco DuoGlider,

Swing Seat, and Rocker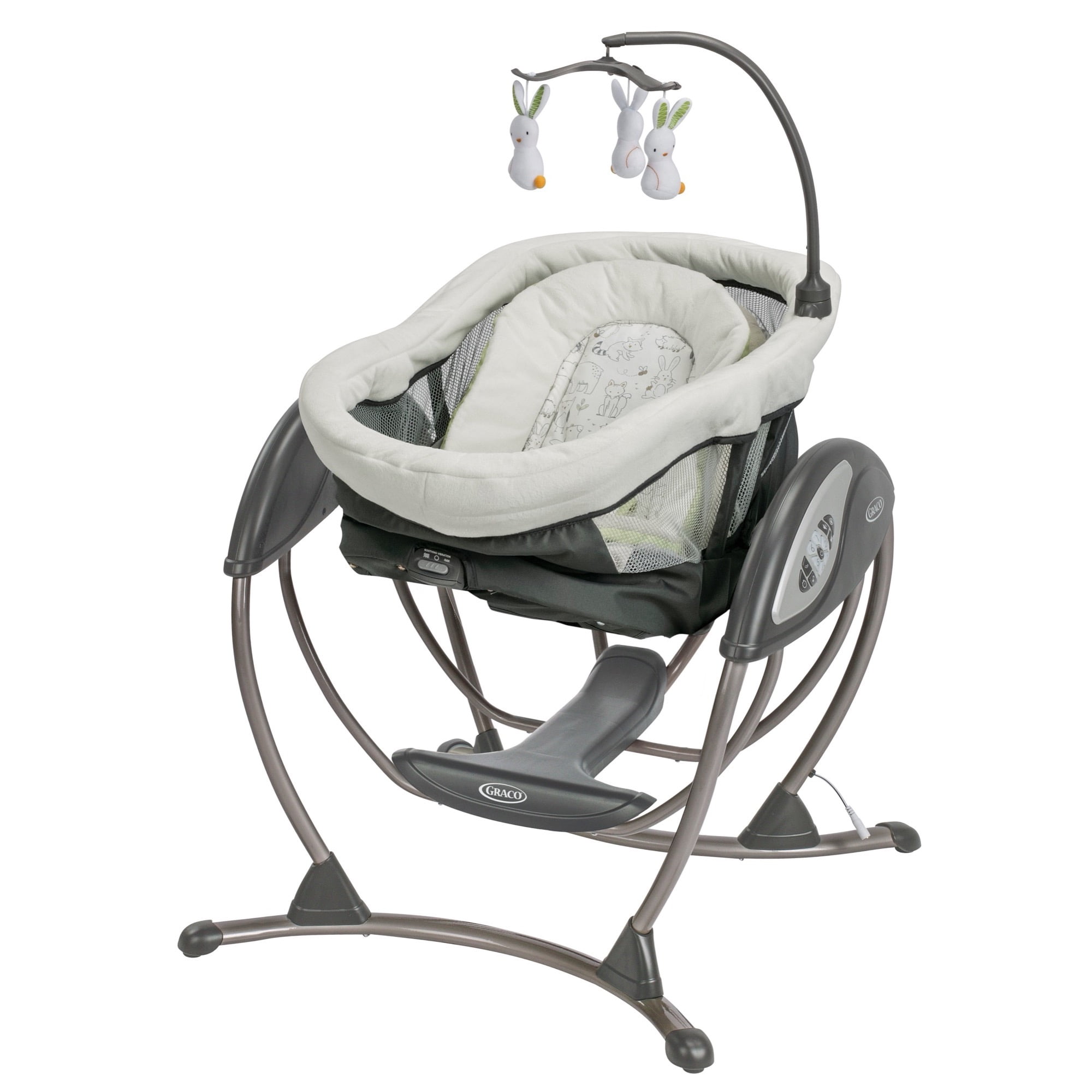 DuoGlider uses a similar gentle motion as your nursery glider to soothe your baby. It features two-speed vibration, six swinging speeds, classical melodies, and sounds of nature to keep the baby soothed and comfortable. There are six swing speeds that can go pretty fast. Also, it has the capability for vibration and a one-setting recliner. This swing is a lifesaver. DuoGlider Graco baby swing conveniently reclines, so you don't have to move your baby as he plays.
Pros
The swing has a gentle motion that calms and comforts the infant.

It has a height-positioning mechanism that can be readily adjusted to meet individual needs.

The swing features a handle and an easy-fold frame that make it easy to transport. 
Cons 
It takes up a lot of space. 

The swing is too pricey. 
Graco Soothe My Way Swing with Removable Rocker
With the Graco Soothe My Way Baby Swing and Removable Rocker, babies can be soothed in 16 ways in two directions. Its two-in-one design allows it to be used throughout the home as a swing seat as well as a rocker. It features removable body support, and plush fabrics provide additional comfort for your child. 
Pros 
It offers eight soothing motions in 2 directions, which makes it 16 ways to soothe your baby. 

The baby Swing seat doubles as a removable rocker for use at home

Swing motions include wave, figure 8, circle,  arch, swing, bounce,  zigzag, and sway.
Cons 
Some parents complained about the music speaker. 
Graco Glider LX Portable Gliding Baby Swing
This Graco gliding swing mimics the cuddling feeling your baby experiences when in your arms. It features two-speed vibrations, ten classic melodies, and five nature sounds. It has six gliding speeds to allow you to find the right setting to keep her relaxed and engaged. The swing is very portable and comes with two options to power it. You can either use batteries or plug it into an outlet. 
Pros
It is very portable

The swing has the option to plug in or use batteries. 

It features ten melodies and five nature songs. 
Cons 
Some parents complained about its durability.
Conclusion
Graco Baby Swings are one of the most effective swings for soothing babies and helping new parents calm their infants. Their swings have an average rating of 4.5 across all their swings from many parents who have spoken highly of them. With this review, you should be able to select the right partner.