Fisher Price Baby Swings
There are a wide variety of baby swings, and you want to select the best baby swing for your baby. Perhaps, you have heard of Fisher Price baby swings and how they produce wonderful baby swings, but you are not sure which Fisher price baby swing is suitable for your family and works with your space.
You do not have to worry about that, as we have researched the various fisher price swings and rockers for babies. In this article, we will share with you the Fischer price baby swings selection, their features, pros and cons to keep your little one peaceful when you need a break.
Fisher-Price Baby Raccoon Swing
The Fisher-Price Infant Raccoon Swing's incredibly plush seat and padded raccoon headrest will keep your baby comfortable. This dual-motion baby swing can rock side-to-side or head-to-toe, with adjustable recline settings and speeds so that you can find the perfect relaxing combination for the baby. It also has an overhead mobile with three dancing toys, a dome mirror, and a range of calming melodies and sounds that contribute to the baby's relaxation and entertainment. Only Babies of about 25 lb/11,3 kg can use this swing perfectly. It will be used as a swing starting at birth and continuing until the youngster tries to get out (approximately nine months).
Features 
This Infant swing has two motions that softly rock from side to side or head to toe.

Adjustable seat recline, six swing speeds, sixteen calming songs, and two sound effects allow customization.

To promote eye-tracking, a motorized mobile with a dome mirror and three soft toys is directly above.

Raccoon-themed infant head support made within a machine-washable seat pad.

The Legs can fold for easy storage.

It also has an AC plug option which reduces battery usage.
Pros
The baby can swing from side to side and from head to toe 

It is easy to put together 

It makes your baby calm and comfortable 
Cons 
The instructions for assembling are not very clear 

The swing is very slow 
Fisher-Price Deluxe Take-Along Swing & Seat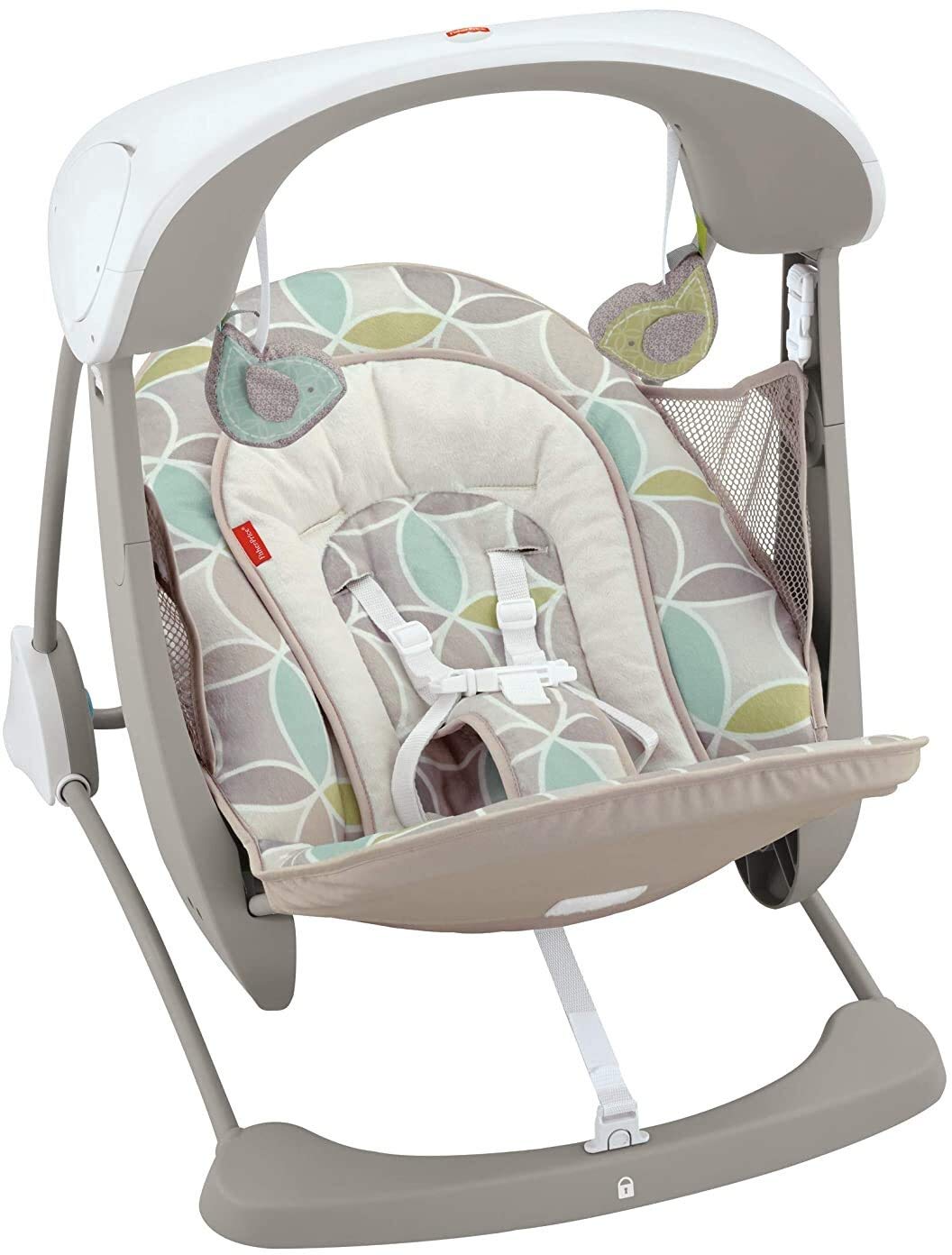 A comfy seat and a calming baby swing! All in one. Everything a baby needs to relax, whether at home or on the move, has been made in this handy swing seat! This seat gives space for them to play or sit upright as they like, from the incredibly comfortable seat pad, which is machine-washable, to the six swing speeds, ten meditative melodies, and peaceful vibrations. The best thing about this swing is that you can easily take the Fisher-Price Deluxe Take-Along Swing & Seat with you everywhere you go because it folds up simply.
Features
It features two goods in one! Infant seat that is stationary and also has a swing.

It has smart swing technology with six swing speeds.

It contains ten music and nature sounds. 

The calming vibrations for additional relaxation are optional 
Pros 
It is comfortable and convenient for your child 

It is easy to fold for stow and go 

Its soft seat is removable and machine washable 
Cons
It is hard to push the buttons that fold it 

It easily breaks 
Fisher-Price Colorful Carnival Take-along Swing and Seat
This sweet panda is eager to assist your child in learning to sit up! The panda's paws on the chair each offer a pleasant surprise for your baby to discover, and the plush fabrics and broad base help support your little one securely as they sit up to interact with the world around them. The best thing is that it folds flat, making it simple to store or transport. You'll adore how simple it is to clean; take out the seat pad and throw it in the washing machine. Even your little bear will like playing with the linkable toys!
Features 
A baby can sit comfortably in a soft, supportive seat.

It has a wide and strong foundation to support infants in an upright position.

One of the panda's paws features a crinkle texture, and the other has a squeaker for sensory play.

It also features two linkable toys to amuse the infant.

Folds flat for convenient transportation or storage. 
Pros 
This swing offers a lot of sensory-stimulating fun for your baby 

It has a soft and sturdy base 

The seat pad is easily removable 

The seat pad is machine washable 
Cons
It doesn't help all babies, especially babies with big thighs 

It isn't easy to get the baby out and in 
Fisher-Price Surreal Serenity Swing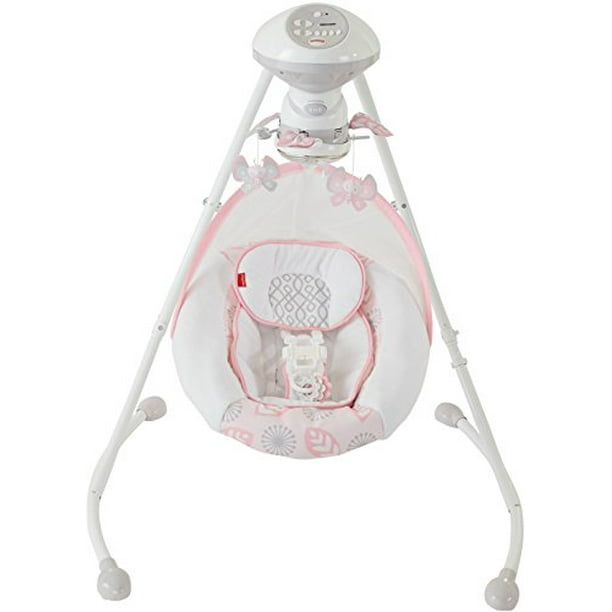 This Deluxe Cradle 'n Swing will be a hit with little cuddlers. It features three calming songs and sounds, two comfortable recline positions, two swinging motions (side-to-side and head-to-toe), a dome mirror, and an overhead mobile with three "fluttering" butterflies. Your infant will swing peacefully with so many soothing options available Your baby's growing senses are stimulated by gentle motions, soft fabrics, and calming music and sounds. Your infant will feel secure and at ease with gentle movements, music, and sounds.
Features 
It features two swings! Head-to-toe or side-to-side

Two relaxing recliner postures

16 calming tracks, six swing speeds, and nature sounds

Powered mobile featuring a dome mirror and three plush butterflies

It has a newborn head and body support, a soft seat pad that is machine-washable,
Pros 
It is easy to operate 

It makes your baby relaxed and comfortable 

It has linking toys to keep your baby's hand busy 
Cons 
It is a little bit pricey 
 

Conclusion
You deserve the best, so we had to do our research to get you quality products that can make this parenting journey less stressful. Above are some great Fischer Price baby swings; you have to pick the one that works best for you. Save more and purchase the best with us that are durable and effective.