Embracing Mom Bods And The Features
A mom bod is simply the body of a mother. 
A Mom's body undergoes a lot of changes (tho' these changes vary with moms) during pregnancy and postpartum, especially in her physical appearance sometimes, it goes to the point where she no longer looks like herself
Examples include stretch marks on the hips, thighs, and boobs, rounded face, double chin, cellulite ass, saggy boobs from nursing and pumping, and a round or sagging belly (stomach, abdomen).
There is no specific criterion or standard for a mom bod. Every mom's body is unique and beautiful. The fact that a mother delivers naturally or under the influence of pain medication is irrelevant. It doesn't matter if she had a C-section, adopted, or fosters a child (or children). How she became a mom does not matter, every mom deserves to be appreciated. 
They are superheroes that do not wear capes! 
A mom bod doesn't prevent women from being unique or attractive. Instead, it makes them more attractive. 
5 Mom Bod Features To Love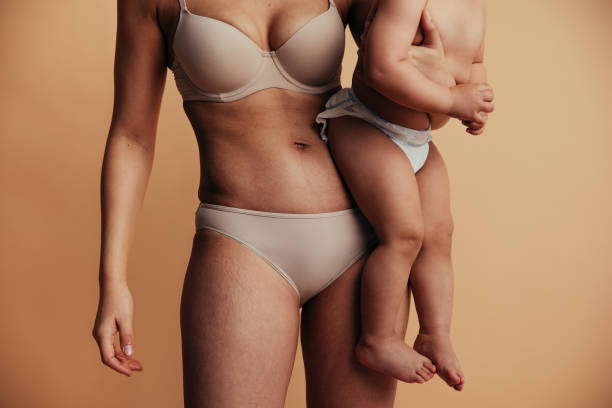 Some call them flaws, but they are lovely flaws that should be embraced. These flaws are gifts! Here are five mom bod features you should embrace. 
 Stretch Marks 
Stretch marks are the scars that remind you of the sacrifice you made to be a mom. Your body was the first home of your babies, which is definitely something to be proud of. These stretch marks will forever remind you of those months you carried your children and waited for that special day. 
2.  The Bags Under the Eyes
Being a mom is a full-time job! The bags under your eyes are proof of this fact. This is why they should be loved and not hidden. 
3.  That Baby Fat
Of course, you gained weight. You carried a tiny human in you for months. Wanting to lose weight is not a bad thing either, but remember that you should give yourself time, put in the work, and be consistent, and if you want to keep it, you should too. Either way, you are a beautiful mom! 
4.  The Scars
How far are you willing to go for the one you love? 
This is a question some ask, you do not need to answer this because your body speaks for itself. All the scars you have show your strength and love for your babies. They are your badge of honor. You went through a lot to get to where you are and whenever you look at those scars, be glad because it symbolizes strength, sacrifice, and love.
5.  Big Tummy 
Big tummy is the new sexy! You don't need a flat tummy, that big tummy is a reminder of your child's first home. 
6. Sagging Breast 
Your sagging breast is a reminder of the fact that you fed your babies. Fine, you may want to work on the sagging breasts but don't rush it; love it while it's there and embrace it totally because your babies were fed through those breasts.
How to Embrace Your Mom Bod
Speak positive affirmations to yourself. Look at the 'flaws' in the mirror and try these positive affirmations for moms. You can add yours to it too: 
I am Beautiful 

These flaws are a symbol of my strength 

My flaws are part of what makes me 

I am strong 

My mom bod is worth flaunting 

I have a badge of honor 
Don't think of People's comments 
The comments of people do not define you. If someone makes a positive comment about your body, appreciate the person. If it is negative, ignore it because what they say is not who you are. 
Stop Comparing your Mom Bod to that of Others 
The various changes each mom undergoes differ, the fact that yours was more or less does not make you any less of a mom than you are. You are unique, Mom. Don't also compare your body to other women's bodies, you are beautiful the way you are. 
Accept your body, embrace it fully and flaunt it because it is beautiful. Let us see your mom bod! You should not be ashamed of it because it is a part of who you are and your story as a mom. 
Takeaway
Mom bods are beautiful and we can say that again. If you can lend a helping hand to a mom, then please do. Getting her a thoughtful gift can also help relieve her of stress. Don't pull any mom down instead, help her feel confident about herself. 
Mom! You are beautiful, You are Amazing, and We love your Mom Bod. Embrace it! Be Proud of It and Love it! 
Frequently Asked Questions
A Mom Bod is the body of a Mother.
Yes, and it is a beautiful thing.
Mom Bods do not mean dad bods are not valid, but we believe mom bods should be celebrated too.