Bugaboo vs UPPAbaby Strollers Review
Purchasing a stroller will be one of the essential purchases for your baby, and you may run into a dilemma about whether to get Bugaboo vs. Uppababy brand strollers. 
Both brands are similar in price and prestige, so knowing which will be best for your needs is essential before making your purchase. 
Whether you need help deciding which Bugaboo vs. Uppababy stroller would be suitable for your budget, or you want information on why one brand is better, this article will give you all the details you need to make an informed decision based on our detailed research, and review from our experts. 
Bugaboo Fox 2 vs. UPPAbaby Vista V2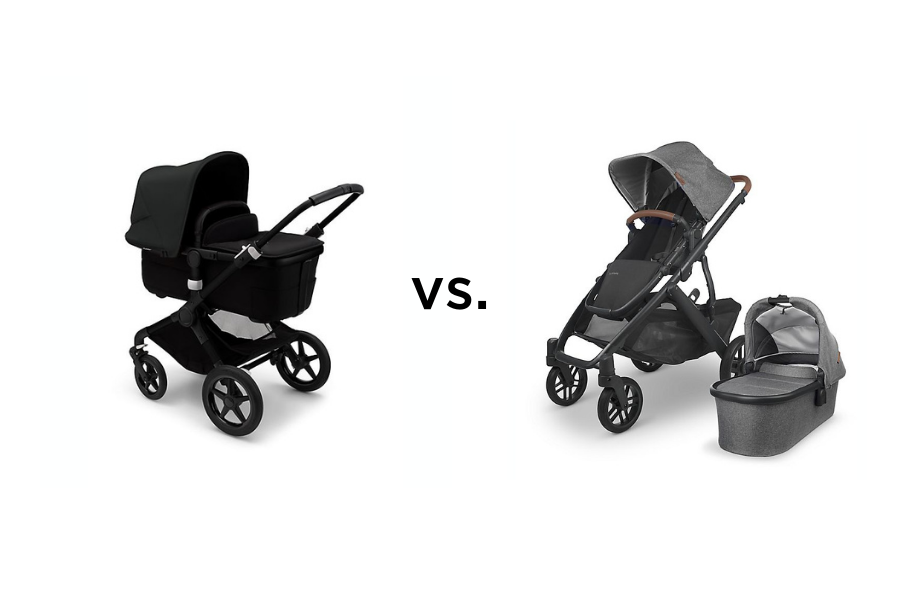 Bugaboo Fox 2
If you're looking for a lightweight, sturdy stroller that can hold up to 48.5 lbs, the UPPAbaby VISTAvs Bugaboo Fox 2 is the one for you! The extendable canopy provides additional protection on sunny days, and the rain cover will keep them dry and cool on rainy days. The five-point safety harness keeps your baby safe and secure while walking, and the seat liner helps to keep them comfortable during any ride. The single stroller might seem pricey at first glance, but it does come with a set of Turtle by Nuna car seat adapters which is sure to be worth it for some families! This stroller has it all – versatility, durability, and comfort. 
Safety Features 
The seat contains a five-point safety harness that might keep your baby snug and safe while you're out walking.

The Sun canopy protects your little one on a hot summer's day. It also comes with a mesh window that lets you keep an eye on your child and allows fresh air to flow through, helping keep your baby cool.

It has a rain cover designed to protect them on rainy days and keep them dry and cool.

The Bugaboo Fox 2 has all-terrain wheels to ensure your baby's protection.
Key Features
The seat fabric is made from aluminum to keep your little one comfortable.

It comes with a Bassinet with high-quality materials to keep your baby comfortable and relaxed. It allows it to lie flat with room to move. 

The Bugaboo seat liner is a vital stroller accessory to ensure your child stays comfortable during any ride.

It comes with a set of Turtle by Nuna car seat adapters.
Convertible Bassinet: One of the features of this stroller is that it can be converted into a bassinet without needing an extra purchase. The frame of the stroller becomes the seat and the bassinet. This feature saves space as you can store a separate bassinet after your baby has outgrown it.
Handlebar And Seat:  It features a height-adjustable handlebar and a reclinable seat that can be adjusted to face the world or face the parent. This flexibility allows the stroller to be easily maneuvered, even using one hand. The Bugaboo fox has a compact fold once it's not being used, making it easy to store and portable. This excellent stroller will make traveling with your little one easier!
Recommended Age Range:  It grows with your little one from newborns to toddlerhood (age 1 to 4 years)
 Weight and Weight Limit: 
It is a Lightweight design at just 9.8kg 

It is made to hold up to 48.5lb
Product Recall
Pros
It comes with an extendable canopy

You can reverse seating positions

Advanced all-wheel suspension suited for any terrain

Single-hand push and steering

You can fold with one hand and store
Cons
Super expensive

Single stroller only

Customization requires additional purchases
Price: $1,199
UPPAbaby Vista V2
The Uppababy Vista V2 is a fantastic stroller! It has many pros that outweigh the cons. Among the cons are that it is heavier than most full-size strollers and takes up more space when folded. However, many other features make this stroller worth it, such as being sturdy and durable, standing up when folded for compact storage, having front wheel locks with visual indicators, having a detachable bassinet with an extendable sun shield for 50 SPF protection from the sun, toddler seat with bug shield and five-point harness. These features make it a top choice for those looking to push around two kids at once!
Safety Features
Toddler Seat + Bumper Bar: designed with a sliding shoulder adjustment, allowing the entire harness system to be adjusted precisely for growing babies by tightening or loosening it all at once.

Toddler Seat Bug Shield: designed to keep bugs from your toddler you are taking them on a walk

Toddler Seat Rain Shield: made as a cover to protect your toddler from the rain 
Key Features 
 Lightweight and easy to push with an adjustable handlebar

The maximum weight recommendation is  50 lbs

The Toddler Seat is designed to meet your child's growing size and curiosity. 

It is designed with a Large under seat basket capacity weighing 30lb

It has a strong frame which allows its recommended weight range from 4-50 kg, 

Available in multiple colors
Seat: The UPPABABY VISTA is a very versatile stroller that can be used from birth to around three years old. It has an easy one-hand recline feature and can carry up to 50 lbs. The bassinet may be used for overnight sleeping, and it features a perforated mattress pad with a vented base that adds to its breathability. If the bassinet isn't what you're looking for, the brand also offers the bassinet stand accessory ($149.99), which allows it to convert into a toddler seat! 
Ride And Handling: The VISTA has foam-filled wheels and suspensions, so you don't have to worry about getting a flat tire or punctured wheels. It can also handle any terrain and rides nicely on uneven surfaces. My son loves his new VISTA!
 Canopy:  Vista has a ventilated, pop-out sun canopy made with UPF 50+ material to protect your little passenger from the sun's harmful UV (ultraviolet) rays. UPF (ultraviolet protection factor) measures the UV rays a material or fabric can block before reaching the skin. The height-adjustable canopy may be shorter and not provide the same coverage as the Buffalo.
Handlebar
Thanks to the smart leather covering, Vista's handlebar can be comfy to grip. 

But the handlebar isn't adjustable and is shorter than the Buffalo's, which could be an issue if you or your partner are tall.
 Product Recall
None 
Pros
Sturdy and durable

Stands when folded, allowing you for compact storage

All-wheel suspension for use on bumpier terrains

Detachable bassinet with extendable 50 SPF sun shield

Front-wheel locks with visual indicators

Toddler seat with bug shield and five-point harness
Cons
Requires additional accessories for adapting to multiple kids

High price point

Parents report difficulty folding

Heavy stroller weight
Price: $1099.99
What Our Experts Say: The UPPABaby vs. Bugaboo products are very similar in capability. While the Bugaboo Fox2 can only be used for a single child, the UPPAbaby Vista can be transformed into a double stroller capable of carrying up to three children. Moms with two babies preferred the UPPAbaby to the Bugaboo Fox2. However, if you plan to wait to add more children to your family, then the Bugaboo Fox might be the better option. Regarding portability, the Bugaboo is superior to UPPAbaby because it can easily be folded and carried around.
Bugaboo Donkey5 vs. UPPAbaby VISTA V2 
Bugaboo Donkey5
The recently announced Bugaboo Donkey5 is a high-end double convertible stroller you should consider buying. It can haul A LOT like the animal named after and is highly versatile, luxurious, and tough. The Donkey5's folding mechanisms are simpler to operate, and the frame no longer features an unlock button that may be used to unfold the stroller. It is so much simpler to transport several children, along with all of their equipment. New hues for the fabric and frame! Since its debut, Bugaboo has never added a second frame color, Graphite (dark grey). This complements the Donkey5's new fabric/sun canopy colors wonderfully, as does the current aluminum frame.
Safety Features 
The sizable extendable sun canopy provides a perfect blend of privacy and circulation with the breezy peekaboo panel.

Graphite chassis and seven canopy colors in an exciting new color pallet with superior finishing to match your style.

Every stride is as smooth as a stroll in the park, thanks to the big puncture-proof wheels.

Your baby may explore the world in the new breezy bassinet while benefiting from improved ventilation to control their body temperature.
Key Features 
The Donkey 5 has an enhanced fold and unfolds with ergonomically designed buttons.

A higher seat and bassinet position to let you be within reach of your child

An integrated connection points to make it simple to use with extras like our Cup Holder and Comfort Wheeled Board.

The Donkey 5 Mono can accommodate a single child from birth and convert side-by-side into a Duo for two children (Duo Extension Set, offered separately) or Twin to fit your growing family's demands (Duo Extension Set and Twin Bassinet – sold separately)

This stylish bassinet features a novel ventilation system to keep your baby cool and comfy. Thanks to the soft transparent mesh, your infant may explore the world or their sibling's.
Recommended Age Range: it is designed for babies aged 1 – 4. 
Weight limit: The maximum child's weight is 50 Ibs (per seat) 
Product Recall
None 
Pros
Suitable for most ordinary doors

With three clicks to change from a single to a double stroller

It has a bassinet and raised seat

One-piece, self-standing fold

Aerated mattress & airy bassinet keep your infant comfortable.

Large puncture-resistant wheels for slick walking on any surface

It has ample storage
Cons
It doesn't come with a cover; you have to buy it separately 

It can easily be transported 
Price: $1399.99
What Experts Say: UPPAbaby VISTA V2 is a better choice than the Bugaboo Donkey 5 because it has more benefits and fewer drawbacks. The two biggest perks are that the VISTA V2 comes with more accessories, including a separate bassinet and bug covers, which don't require car seat adapters for MESA configurations. At the same time, the Donkey 5 involves the purchase of adapters for any compatible car seat, including Turtle One and Turtle Air. Another perk is that the canopy on the VISTA V2 is height adjustable to accommodate a taller child. The leg rest has adjustable angles for increased comfort and higher storage weight capacity (30 lbs) for double configurations (without an adapter). The drawbacks are that the RumbleSeat on VISTA V2 has a lower weight capacity (35 kg), may be too small for some toddlers, require an older child to sit on top of it, and maybe more challenging to manoeuvre.
Bugaboo Cameleon vs. UPPAbaby Cruz V2
Bugaboo Cameleon
The Bugaboo Cameleon is a convertible stroller that can be used from birth to three years old. It has many positions, a canopy to protect from the sun, and a large storage basket. The seat can be adjusted to three positions for the baby's comfort, and there is a five-point Safety Harness for maximum safety. It also has a handlebar that is easily adjusted. 
Safety Features: 
The seat has a five-point safety harness that can be easily adjusted, the buckle is easy to fasten for your child's protection, and the bumper bar on this stroller features a complete gate-opening design. It can make putting your infant in the car seat simple and hassle-free.

 It has a 2-wheel position for getting through snow and sand and was designed with a rain cover to protect your baby from rain and keep them dry. Toddler seat bug shield protects the baby from bugs and other harmful flies. 
Key Features
The Cameleon seat has a limit of just 37.5 pounds and is suited for infants who can sit up unassisted (often around six months).

It offers multiple-position recline, and the seat is reversible 

Bugaboo bassinet is suitable for up to 20 lbs

It is a convertible stroller that can be used from birth

Recommended Age and range : 0 months – 4 years

Weight and weight limit: 9.6 kg/21.1 lbs.

 Bugaboo Cameleon can hold up to 9 kg in the carrycot and up to 17 kilograms in the seat.
Handlebar: With the Bugaboo Cameleon, the handlebar is fully adjustable. You can choose from seven height settings that suit your preference, and once you've selected the desired height, the handlebar will lock in place. Moms love that you can lift this stroller's handlebar up and over the seat. 
Tires and wheels: The Cameleon has 6-inch front and 12-inch rear wheels. The front suspension can also be adjusted. A locking feature is available on the front wheels as an added safety measure. As soon as it is locked, the wheels cannot move more than 180 degrees and 90 degrees either way.
 Brake: The brake on this stroller is mounted on the handlebar. The brake must be set with both hands, and once set, the brake is effective.
Storage Basket: The Cameleon contains a huge, semi-circular storage basket with a rigid base. It's easy to use and has good storage for items like baby stuff. It comes with a cover for your things in the basket.
Seat: A wide seat sits in a cradle formed by the frame, and the material used for the seat is easily wipeable. This stroller has three positions of recline: completely flat, semi-upright, and upright.
Canopy: A canopy can provide good sun protection for your little traveler, and you can put it up quietly to avoid waking them. 
Folding And Storage: The Cameleon can be folded only after removing the seat. 
Product Recall 
Bugaboo Cameleon Recall: The Bugaboo Cameleon was recalled in January 2013 over safety concerns. Fifty-eight reports of handles detaching from Bugaboo strollers were received despite no injuries related to the recall. Products affected by this recall were sold between September 2009 and June 2012. The strollers included in this recall have serial numbers in the following range:
04011090900001 to 04031101009999            

08011090900001 to 08021100800386                

140100093600531 to 140103123350418 
These numbers can be found on the stroller's chassis, under the carrycot or seat.
 Pros
It features several positions.

It has a canopy  to protect your baby from the sun 

The storage basket is large with more storing space for baby stuff 

It has a handlebar that is easily adjusted 

The seat can be adjusted to three positions for your child's comfort. 

The seat has a five-point Safety harness for the baby's maximum safety. 
Cons
It may be difficult to operate.

It had a recall.

It is expensive 
Price: $1149
UPPABaby Cruz V2
The UPPAbaby Cruz V2 is a full-size reversible Toddler Seat with a 5-point, no-rethread harness and a One-handed, multi-position recline. The handlebar is adjustable and comes with a canopy and a Vented peekaboo window. The front wheel locks with visual indicators and has an extra-large basket with a 30 lbs weight limit. The safety features of this stroller are fantastic; however, lugging this stroller around can be an issue if there are any areas with stairs. The four solid plastic wheels will not easily get stuck if put into a straight position. 
Safety Features: 
The front wheel locks with visual indicators

The handlebar of this stroller is covered in a leather material made entirely of leather. . This indicates that it doesn't include any harmful chemicals that could harm your baby.

It has a canopy that is large to protect your baby from the sun

The seat has a five-point Safety harness for your baby's safety
 Key Features
The UPPAbaby Cruz V2 is a full-size reversible Toddler Seat.

It has a 5-point, no-rethread harness, One-handed, multi-position recline. 

It comes with a canopy and Vented peekaboo window

The handlebar is adjustable,

It has an extra-large basket with 30 lbs weight limit.
Handling And Ride: It has four solid plastic wheels, Lugging this stroller around can be an issue for some parents if you need to pass through areas with stairs. The front wheels can get easily stuck unless you put them in a completely straight position.
Storage
The Cruz's large storage basket makes it a fantastic choice for dual uses, including light shopping. It features three convenient storage pockets where you can keep necessities like diapers, wipes, phones, keys, etc. It has more storage space than the canvas bag on the Bugaboo Cameleon.
Folding And Storage
It is easier to fold than the Cameleon because you can do it with the attached seat. But because of its size, the stroller can take up more room when folded and isn't particularly compact. When folded, it is self-standing and small enough to fit in a closet or corridor but does not have a canopy or seat.
Age Suitability
It is suitable for children six months and older with a toddler seat. It has a bucket seat style with a non-flat surface. The seat is roomy and can hold children weighing up to 33 lbs.
Handlebar: The handlebar on this stroller is made of luxurious leather material, and it has a perforated pattern to help ensure that your hands don't slip. It also adjusts easily to be the perfect height for you!
Canopy: The canopy is one of our favourite features because it is constructed from thick fabric and has a peek-a-boo window that lets you watch your napping child without waking them up. There is also UPF 50+ pop-out sun visor that extends down to the bumper bar for extra sun protection, and the canopy can be extended by 3 inches so it can grow with your little one.
Brakes: The footbrake is bright red, so it stands out between the back wheels and is easy to find. It can be tricky to use if you're wearing sandals or flip-flops, but that's a small price to pay for added safety! This stroller is also lightweight and easy to fold, which makes it a winner for moms on the go.
Portability: The stroller can be bulky and painful to transport, but if you remove the seat and fold up the leg rest, it will fit into most family car trunks. It also has a removable back wheel which can make it easier to transport, but that means more hassle if you're on your own and have to deal with the stroller and a fidgeting toddler by the roadside.
Product Recall
In July 2015, the UPPAbaby Cruz 2015, 2015 VISTA, and RumbleSeat 2015 were recalled due to potential safety issues. 
Pros
Enormous shopping basket

Three handy storage pockets 

A brake that's easy to see and engage

The canopy is large and made of a thick fabric
Cons
It had a recall.

It can be bulky.
 Price
What Our Experts Say: The Bugaboo Cameleon is a fantastic stroller with many features that make it a great investment. It has multiple positions, the storage basket can hold more than one bag of groceries, and the handlebar is easily adjustable. The seat can be adjusted to three positions for comfort, and there's even a five-point safety harness for maximum safety. The UPPABaby Cruz also has many pros, such as its enormous shopping basket, three handy storage pockets, and easy-to-see and engaging brake. The canopy is also very large and made of thick fabric. However, the UPPABaby Cruz is bulky, which may not be suitable for parents who want an easily maneuverable stroller with lots of storage to go with the Bugaboo Cameleon instead of the UPPABaby Cruz V2. Still, if you consider the pricing, UPPABaby Cruz has the upper hand. 
Final Thoughts
Both stroller brands are unique; they have excellent safety features, which we have outlined in this article. However, they have significant differences, one of which is the bulkiness of the UPPABaby, the cost of the Bugaboo, and some other essential features. Some moms preferred the UPPABaby because it allowed them to use it safely with two kids, while some loved the maneuverability of the Bugaboo. 
Regardless of your chosen brand, you can rest assured that your purchase will be well-made, well-equipped, safe, and reliable.