The Best Playpens for Babies in 2022
Babies love to play, and once they get to the stage where they are rolling, standing, and crawling, you want to ensure they can play as much as they want while keeping them safe. This is why playpens for babies are essential to you as a parent and your baby. 
You surely want your baby to have a playpen, but you do not know which one to buy, their features, pros, cons,  or if they are safe for your baby. We understand how you feel, so we are here to help. We spent hours researching the best playpens for babies, and their features and grouped them into the categories that are best suited for each of them.
These include overall best, best with expandable space, most affordable, and so on. In curating the list of best playpens for babies, we considered their features, pros and cons, portability, and durability. 
Best Overall Playpen for Babies: Graco Pack n Play Playard
The Graco Pack n Play Playard is comfortable and perfect for traveling, picnics and outings with your little one because it is very portable.
It has folding feet and wheels, which allows a 20% more compact fold, and a durable and sturdy frame that can make it suitable for travel use.
The playpen has a push-button fold that allows you to break it down quickly and without hassle.
Its portability is excellent as it fits easily into a convenient carrying bag for easy travel or storage. And! It is comfy and Cozy. No wonder it has excellent ratings on Amazon.
Features :
It comes with a play yard frame, a mattress pad, a removable pocket, and a carrying bag.

Automatic folding feet and wheels allow for a more compact fold, making it easy to store and perfect for travel.

The mesh fabric holds each metal piece together while allowing for airflow and transparency in the play yard and is safe for a sleeping baby when they press up against it.

It has an organizer for keep

ing baby needs closer.
This playard's durable frame makes it ideal for travel

The push-button fold makes closing your playard easier, quicker and without hassles. 

Handy wheels for added convenience

All sides have airy mesh for maximum ventilation
Pros 
Durable frame and handy wheels for convenience. 

Its automatic folding feet and wheels make it ideal for travel
Cons 
It is not very easy to assemble. at first

Space is not very wide
Price : $64.99
Expandable Sizes: Toddler by North States Superyard  Play Yard
If you are going to restrict my play space, then you have to give me plenty of room to play in. That's toddler me… Lol! 
The Toddleroo by North States Superyard Colorplay 8 Panel Baby Play Yard is a playpen that provides plenty of room for your toddler (s) to play in.
It is a perfect fit if you have more than one toddler or if your toddler loves having plenty of play space. 
Features 
It has a  carrying strap and non-slip pads that allow for ease in moving from one place to another.

 The play yard sets up and folds up quickly. 

The playpen is surrounded by durable plastic, which is difficult for either pets or children to climb.

It has a protected play space of 34.4 square feet which can be adjusted to fit a smaller space by simply removing two-panel areas. 

This play yard is JPMA certified. 

The multicolor design also adds to its attraction and sensory stimulation during tummy or playtime. 
Pros 
Cons 
May experience issues with quality
Price: $109.99
Best Lock Mechanism Playpen for Toddlers: Costzon Baby Playpen 
Make your toddler feel like the king or queen of their castle with this decorative playpen by Costzon. It is stylish and adorable.
One thing I love about this playpen is the safety lock mechanism. 
Features 
It is made with High-density polyethylene (HDPE) which makes it thick, and

HDPE

is safe.

A non-slip rubber pad on the bottom of the panel makes it difficult to tip over and move. 

 

ASTM

Certified 

It has a toy panel. 

The playpen is attractive due to its bright colors and flower shapes 

A safety lock is on the outside of the door to prevent your baby from opening the door and running out of the fence.

Easily Foldable 

Costzon playpen has panels that can be combined to build playpen in different shapes. This increases your toddler's interest in the playpen. 
Pros 
The lock is on the outside, which puts you in full control. 

Has educational toy bags 
Cons 
Assembling the playpen is not easy, and there are complaints about the screw tightening. 
Price: $149.99
The Breeze plus portable playard features an incredibly high-quality product, premium fabrics, and high-end design at an affordable price. As the name says, using this playpen is a breeze. It has a removable bassinet offers a comfortable spot where your baby can rest. The mattress is nice, breathable, and regular, and the bassinet and changer are incredibly simple to put in and take out. It has a high level of stability, 
The top bars are well-cushioned for baby safety, and the entire frame is coated in a fabric that can be easily cleaned. With this carefully thought-out combined playard, bassinet, and flip changer, you'll have full convenience when taking care of your baby.  The 4moms breeze plus is an all-in-one care station that helps to meet your baby's needs. Asides from the bassinet, it has a detachable changer that can be easily flipped over the side for diapering and clothing changes.
This playpen folds up easily into a travel bag for those who plan on using it for travel. 
Features 
It has a One push open, one pull close setting that allows one-handed operation. 

The playpen includes a bassinet for your baby to sleep

A detachable changer for diapering and clothing changes

Folds up easily into a travel bag. 

The manufacturer says the bassinet can be used from birth until 18 pounds, The flip changer until 25 pounds, and the durable playard up to 30 pounds.

Easy, one-handed setup and take down, one push open, one pull down. 

It has a removable bassinet, a comfortable space for the baby to rest. 

It comes with a convenient travel bag and an extra package that makes transportation easier. 

It comes with a changing table.

It has a bassinet and a changing component as well as a travel bag.

 
Pros 
Allows one-hand operation

Offers an All-in-one baby needs
Cons 
It might seem heavy for some parents 

Too pricey for a playpen (except that if you consider the other things you get in return, it may not seem expensive again)
Price: $269.99
Best All-In-One Playpen:

Chicco Lullaby Zip All-in-One Portable Playard
If you need a playpen that goes the extra mile, then the Chicco Lullaby Zip is for you.
It was made with you in mind. It has all-in-one functionality and parent-friendly features like a full-size infant bassinet, zip-off washable fabrics, a deluxe organizer, a detachable changer, a toy bar with melodies, rubber wheels for smooth and easy transport.
Features 
Full-size infant bassinet for your baby to rest

 zip-off washable fabrics to make life easier for you

 A detachable changer for diapering and clothing changes

 Rubberized wheels for convenient and easy transport 

Firm, flat mattress and removable floorboards

It has an electronic toy bar with soothing sounds, nature sounds and detachable soft toys to keep your little one busy. 
Pros
Zip-off washable fabrics

Electronic toy bar with soothing songs
Cons
Heavyweight of about 35 pounds (However, it has rubberized wheels that make transportation easier)
Price: $269.99
Best Outdoor Playpen For Toddlers: Summer Infant Pop N' Play Ultimate Portable Playpen
 Lightweight Playpen that is great for indoors and outdoors.
The playpen comes with a removable canopy that offers UPF 50 protection against the sun's rays.
The sides of the playard are made of airy mesh so baby doesn't get too hot (and you can easily keep an eye on her).
Features 
Removable canopy

 Soft padding for your little one to play and nap comfortably in

Ample space for your little one to move around. 

Light-weight, which makes it easier to travel around with.

Water-resistant floors
Easy setup
Pros 
Great for outdoors 

Weighs lightly (about 12 pounds)

Has a removable canopy
Cons 
Lacks extra features like a bassinet or detachable changer. 
Price: $89.99
Best Playpen For Travel – Bjorn Travel Crib 
This Baby Björn play yard's material is lightweight. It weighs only 8 pounds and is made entirely of OEKO-TEX Standard materials that come into contact with your baby. This lightweight playpen with a super-comfy mattress is perfect for your little one when you are traveling. It is simple to set up and fold up. The Travel Crib Light is simple to transport, assemble, and fold. This travel crib is a cozy place for your child to sleep, thanks to the soft mattress. 
It comes with a soft, comfy mattress that allows your baby to sleep well. It also has an airy mesh fabric that gives you reassuring protection over your baby.  Additionally, there is no option for bassinet height.
Features
Lightweight with about 13 pounds 

A soft mattress with high-resilient PU foam that helps to add support, comfort, and resilience or bounce.

It has an airy design for good supervision.

Removable and machine washable crib textiles mattress cover is machine washable (hot/60˚C).

Materials: 100% Polyester, Sheet Mattress: 70% Polyester 30% Cotton

The fabric is removable and machine washable at warm temperatures (40 C).

These travel crib sides are made from soft and airy mesh fabric. It would allow you to monitor your baby for further supervision.

It is suitable for newborns and three years old or until your child can climb out of the portable crib.
Pros
Easily Foldable

Your baby can conveniently sleep in the travel crib at home or while traveling because of its soft mattress.

The BabyBjorn has a slightly thicker & cushier mattress to make sleeping comfortable for your baby. 

 It is  easy to assemble
Cons
Does not come with a fitted sheet. It needs to be purchased separately.

the mattress is on the floor and can be very cold 

It's challenging to lay the baby down since the mattress is on the ground.
Price: $269.99
Most Durable: Graco Pack 'n-Play Dome LX-Playard

You can keep your baby close to you wherever you go with the Graco Pack 'n Play Travel Dome LX Playard's portable travel dome bassinet, which can be used inside or outside the home. For comfort and convenience when you enjoy the backyard with your baby or go to a park playdate, this playard comes with a UV 50 canopy and carry bag.
It includes a changing pad, a bassinet insert for babies who can't yet sit up, and a bassinet basket for newborns. On the side, there is a pretty helpful wipe holder. The crib mattress is soft and of regular size.
Features 
It comes with a canopy for UV protection: to protect the baby from the sun and keep it cool, a large domed canopy with UV 50 protection is attached to the bassinet. 

The Travel Dome is portable and easy to take because it folds up small and comes with a tote case.

A full-size infant bassinet offers a convenient place for your baby to sleep that is easy to access and to see from a distance. Raised Travel Dome bassinet places the baby at your eye level for nighttime check-ins.

Wipe-clean fabrics are used on the removable quilted diaper changer to facilitate quick and simple cleanup.

The portable dome bassinet and playard have full mesh sides for ventilation and visibility.
Pros 
Easy to use and assemble 

Changing tables are removed easily for your convenience and have a waterproof lining.

The changer is sturdy and easy to clean.

 It's sturdy and durable because it was made with quality materials 

It is machine washable 
Con
 It is small; likely, only a newborn could fit there.
Best for Small Spaces: Bugaboo Stardust Portable Indoor and Outdoor Playpen
If you don't have much room, you should use this playpen. Although it has a smaller footprint than most playpens, it is just as durable and helpful. Yes, you may elevate the bottom to bassinet height. The point is that it weighs less than 15 pounds and is only 5 inches wide when folded. It will blend in almost anywhere.
Features 
It is made with soft, breathable, Oeko-Tex certified materials designed for a perfect fit.

The size is perfect for a small room.

It is small, lightweight, and only 14 cm long when folded (5.5 inches). It is really simple to pack and transport because it includes a useful travel bag.

It is made with breathable mesh side panels that allow increased airflow. 

It is chemical-free and made with high-quality fabrics.

Adjustable height mattress: Your baby can be lifted in and out of bed without bending over, thanks to the zip-in bed height.

It is Suitable for 0 to 2 years old.
Pros 
It's super lightweight and very easy to put up/down. 

It Folds flat for easy storage or transportation

the mattress is thin, but it is also comfortable and padded
Cons
It's tough to reach, and the holes are tiny and inconvenient.

It is expensive 
Best Budget: Graco Pack and Play Portable Playard
Are You Looking for a Pack ' budget-friendly n Play? With the Graco Pack 'n Play Playard, you can guarantee your baby's comfort wherever you go at an affordable price. Its foldable wheels and feet allow for compact fold, and its sturdy frame can withstand frequent use while traveling. You can get high quality for a limited price with this playard. It has foldable feet and wheels, making it 20% more portable when folded—a convenient feature for traveling. When you need to transport it away from home, there is a carry case provided with a push-button fold that makes it simple to disassemble.
 It is also suitable for travel. The playpen folds down fast and effortlessly thanks to the Graco push-button design, and it readily fits into a handy carrying bag for hassle-free transport or storage. The baby will be kept cozy and comfortable, whether at home or away.
Features 
This portable Playard's sturdy structure makes it perfect for travel.

Automatic folding feet and wheels provide a compact fold for simple transportation and storage.

Playards can be quickly and easily closed with the signature Graco Pack 'n Play push-button fold. Wheels are also available.

Maximum ventilation is provided by airy mesh on all sides.
Pros 
The wheels make it easy to move from room to room.

It's really easy to install/ take down.

Super simple and easy to do, and it comes with a bag to store everything in one unit.

It is cheap and durable. 
Cons
The mattress pad is a little hard and uncomfortable. 

The plastic part of the mattress does not fit snugly to the board.
Fun Play Wall: Yobest Baby Playpen
The ideal play space for any baby is the Yobest Baby Playpen. This playpen is comfortable, roomy, and reliable. Even plastic balls that can be used to create a ball pit are included. This item is well worth its price because you'll probably use it for many years as a secure and enjoyable play space for infants and toddlers of all ages.
Features
Large play area: with Yobest , your baby has a large play area for themselves to have fun.  The external dimensions of the YOBEST extra big playpen are 75 x 57 x 27 inches (190 x 146 x 69 cm), and the internal dimensions are 71 x 55 x 27 inches (181 x 140 x 69 cm)—nearly three babies and three adults may crawl, stand, play, nap, and share happiness. 

Waterproof: This playpen's bottom is composed of water-resistant oxford material. 

Easy To clean: Ensure that milk and urine stains cannot penetrate and that stains may be removed easily with a damp cloth. It can easily be cleaned. 

Double Zipper Design: External double zippers stop the infant from unintentionally climbing out and hurting themselves when they fall. 

360-degree wide-angle for safety lock: Babies can see their moms outside the fence from numerous sides when sitting or lying down in the playpen since its four side walls are composed of breathable and visible mesh.
Pros 
It has a great  free safe place for tummy time, baby can crawl and play 

The Plastic pipe is covered  by cotton, effectively made to  protect your baby from injury

Easy to assemble
Cons
The frame of this playpen is made of sturdy metal poles with weak plastic joints. 

It is expensive
Best value: Evenflo Versatile Play Space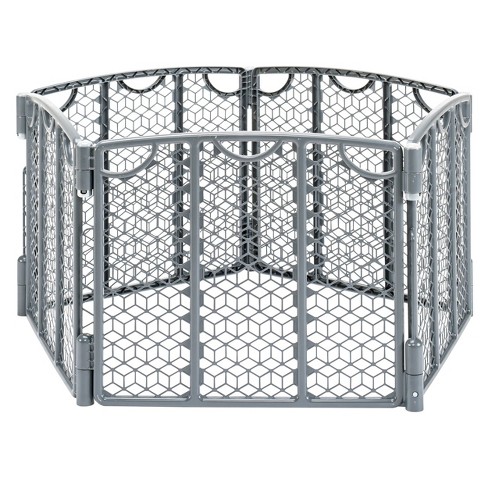 Features
it is suitable for indoor and outdoor use. 

Exclusive reversible legs contain anti-movement/non-scratch floor pads for any internal floor surfaces in addition to outside stakes for lawn stability.

A play area over 18.5 square feet in size and 28″ in height provides enough space for your child.

It is portable, making it easy to move and fold 

Each panel is made as a door access

A simple and effective push button hinge holds each panel together
Pros 
It is quick and easy to setup 

It can easily fold up for storage.. 

Good size and has easy installation. 
Cons 
The gate sometimes bends. 
Best for Large Areas: Baby Playpen, 79"×71" Extra Large Playpen for Babies and Toddlers
There will always be one excuse to take a quick break from your kid, such as to do some housework, use the restroom, or do some yoga. We are constantly concerned if a child is crying or moving while they are out of our sight. You may occasionally wish that something could watch after your child while you focus on avoiding mishaps.
Creating a secure and enjoyable children's play place for your baby is the work of this playpen. This large playpen is a fun play area to leave your children alone in a smaller playpen. Babies adore it since they can still roll, crawl, and attempt to walk about in it because it is big enough for them. Give children a secure, independent play area to grow in their independence.
Features
Large play area: The baby has plenty of space to play  with 79 × 71 inches as its dimensions

It is made of wear-resistant material, tear-resistant fabrics, and sturdy steel pipes. 

It has an external zipper that helps prevent the baby from opening the door of the playpen from the inside.

It  is made of rust-proof alloy pipes and wear-resistant

The fence was made without space to provide a full range of protection.

It has four sturdy, safe anti-slip suction cups on the bottom to stop the playpen from moving or tipping.

The Corners have thickened foam padding to prevent hits.
Pros
 It is suitable for indoor & outdoor play yards for kids.

It Provides a safe playing space for kids to develop themselves 

It can be easily cleaned with a damp cloth.
Cons
Assembly is not very easy, and the floor also stains easily.
Greenguard-Certified: Lotus Travel Crib
It is the only play yard with a GreenGuard Gold accreditation is the Guava Lotus Travel Crib. Toxic substances, including phthalates, BPA, lead, heavy metals, PVC, and flame retardants, are absent in the product.
Although the Guava Lotus Travel Crib is relatively light, Because it weighs only 13 pounds, the Lotus Travel Crib is lightweight and portable. The aluminum legs of this portable crib are responsible for its durability. This portable crib has a cozy mattress on the floor composed of insulated foam. 
Features
It is lightweight that weighs only 13 pounds. 

It is the only travel crib and plays yard on the market that is GreenGuard Gold-approved.

It doesn't have harsh chemicals like PVC, Lead, Phthalates, Formaldehyde, or Heavy Metals (Cadmium, Arsenic, Mercury).

The Lotus Crib is quick to set up and pack because it requires no assembly and is easy to use.

It has a baby park carry case. 
Pros 
Ease of use & portability

It is safe for babies because it lacks any harsh chemicals

GREENGUARD Gold-certified

If there are any accidents or diaper blow-outs, the mattress is also synthetic and seems easy to clean.

It is also easy to move due to its

narrow design and light weight
Cons
The mattress pad is too thin and hard to attach to the bottom of the crib with Velcro
Best Washable: Babymoov Naos Premium Travel Playard 
The BabyMoov Naos is a  machine-washable playpen making it a good playpen for your little one. You can easily wash it and assemble it. 
It is portable, lightweight, and incredibly simple to put together, giving young children the comforts of home. It provides the ideal setting for them to relax and play inside and outside.
Features
It is lightweight 

With Naos, you can carry it in style with a sturdy compact duffel bag, which can be worn on your shoulder or as a backpack.

Providing great privacy indoors or as a play tent outdoors with the Naos' anti-UV 50+ roof canopy.

It has a strong aluminum frame with rubber under each leg to provide great stability both indoors and outdoors.

The dimensions of the Naos Playard mattress are 45 inches by 24 inches  and the mattress is 1.2 inches thick and made of  foam
Pros 
 It's easy to assemble and disassemble 

It has adjustable shoulder straps for easy carrying as well.

It is portable
Cons
Some mothers complained about the fabric that it is not strong enough 
What are Playpens for Babies?
Playpens for toddlers are small enclosure or restricted area that creates a safe space for your toddlers and little ones to play.
It can be either made of plastic or wood, though some other models have a metal frame with mesh walls.
A playpen creates a safe space where your baby can have independent playtime without constant supervision.
It also gives you ample time to work,  cook, do chores, or take a short break. (Please note that this does not mean leaving your child unsupervised is right) 
Is it Playards or Playpens? 
This is one question that is usually on many parents' minds: am I to buy a playard or a playpen?
Is there a difference between them, or is anyone fine? While some parents think of the difference between these two, some do not care and use them interchangeably. 
None of the groups of parents is wrong; It can be a playard or playpen.
A playpen is like the regular version of a playard that allows your little one to have a secure play space and sleep.
Playard has extras like bells and whistles, a removable bassinet, changing station, toys, lights, etc.
Playpens are mostly "free-standing," but we have some with beds where children can sit down, jump, and play.
Play yards or pack n play are words used to describe a playpen with extra features. 
Are Playpens safe for Children?
Safety is critical when considering anything that has to do with our babies.
The American Academy of Pediatrics (AAP) recommends that playpens should not be used for children younger than four months old.
After four months, the AAP says it's safe to use a playpen as long as the child is supervised.
Here are things to look out for to ensure a playpen is safe for your little one: 
 

JPMA Certification

(Juvenile Products Manufacturers Association). The JPMA label on the playpen means it conforms to the

safety standards

set by the Consumer Products Safety Commission (CPSC).

The sides should be a minimum of  20 inches high from the playpen floor to prevent your little one from jumping out.

If the playpen has mesh sides, the holes in the mesh should not be larger than ¼ inch to prevent small fingers and small buttons on clothes from getting caught. 

Slats on a wooden playpen should not be more than 2 3/8" apart.

Regularly Check vinyl or fabric-covered rails for holes and tears.

Remove any item across the top of the playpen to keep the baby from strangulation.

Do not leave a baby in a mesh playpen with the side lowered

Do not replace the mattress or padding in the playpen because it might not fit the playpen well.

Stop using the playpen when your toddler reaches a height where they can easily climb out. 
Choosing The Best Playpen For Babies
Selecting from a range of playpens for toddlers requires one to streamline, knowing which playpen will suit us perfectly is important.
This is a list of other factors to consider when selecting a playpen:
The type of Playpen you want: If you want a playpen that will just be for your baby to play in then a basic playpen model is great but if you want a playpen that has other features like a bassinet, changing space and so on then you will need to go for a playpen with these features.
The purpose of the playpen: While we have playpens that are good for traveling purposes or to take from one place to another, some are not very good for this purpose. A playpen for traveling should be lightweight and easily foldable, don't worry these are things I will talk about in the full review. 
Indoors or Outdoors: If your playpen will be set up outside, consider getting a canopy, which will help protect your baby from the sun's rays or a waterproof playpen. If it will be indoors with a large space then a playpen that has wide space is the right fit.
How we reviewed the best playpens for babies
Safety
When it comes to a baby's safety, it should always be of prime importance. A stable and secure playpen is required. Safety is one of the most important things we consider to review each of the best. We Looked for surfaces with smoothed edges and rounded corners that are safe for a newborn.
Portability
The portability is one of the factors we considered when reviewing each of our products.  The ideal playpen should be portable, foldable, and simple to store so that you can take it with you when you want to travel. If it's a play yard with a crib, the wheels can be locked to make pushing it easier.
Sturdiness
The playpen's frame should be steady and unshakable so that the baby's movements do not ruin it. So we looked at sturdiness as an aspect to consider. 
What to consider before buying a Kids Playpen
Assembly
Do you require a playard that is easy to assemble with one hand? Would you prefer one that collapses at the push of a button? It is better to get a playpen that is easy to assemble. Perhaps you intend to use it within your home; in this case, wheels are more essential for moving it around.
Portable
This might not matter if you only want to use it within your home, but if you anticipate traveling frequently, you might prefer something a little lighter and more portable.
Price 
 It would be best to consider how much money you have available and whether or not you plan to utilize this item frequently. Keep an eye out for sales and other bargains that could make your ideal playard more affordable if you want to keep costs down.
Size
Playards are available in a range of sizes and shapes. You should look for a place where your youngster has a good space to move around and sleep.
Frequently Asked Questions 
Do I need to get a playpen for my baby?
But occasionally, you might need a safe area to leave your infant for a short while at home due to the layout of your home or other factors. A playpen can be pretty helpful under these circumstances.
Are playpens suitable for babies?
it is suitable for 6 to 12 months old babies. Playpens shouldn't be used to confine newborns. Adults must give a great deal of stimulation because there is a great deal of space between a newborn laying in a playpen and an adult's face. Furthermore, infants cannot roam around enough in a playpen to amuse themselves.
Which baby playpens are the best?
All the playpens listed above are the best in their categories, so if you are looking for the best, check our list. 
How much do baby playpens cost?
The basic models are the cheapest playpens, typically costing between $40 and $80. Bassinets and changing stations are included in models that cost between $80 and $120, but deluxe ones with all the bells and whistles typically cost between $120 and $200.
Are playpens safe for children?
Yes! Baby playpens are put through safety inspections to ensure that they are suitable for use around young children. Some playpens are safer than others, but you may use this guide to help you understand what constitutes a secure playpen. The most important features to consider when selecting a playpen include sturdy construction, the absence of small items that could come loose and provide a choking hazard, and the lack of gaps between the walls and fence panels.
Can you use playpens outdoors and indoors?
Yes. Most playpens are for use both indoors and outdoors because of the settings but always read the producer specifications to be sure before you purchase.
Are there playpens I can take on a plane?
The majority of playpens that are approved for use on airplanes are playards rather than playpens. Most playpens are too large to be transported by plane.
Final Verdict 
We have provided you with the list of the best playpen for your baby, so you don't have to stress yourself.  This is a useful guide to help you choose the one that perfectly suits your family's needs.