15 Best Nursing Bras for Moms in 2022
When I talk of the best nursing bras, it is not the Bra that is right for everyone but the one that suits you perfectly. We have different kinds of nursing bras – nursing sports bras, seamless nursing bras, and nursing sleep bras, to name a few.
I have made a list of bras that are generally designed for both pregnant and breastfeeding moms with their various features so you can know the perfect fit for you. No matter your breast size, I want you to know that I got you, Momma! 
Before we look at the best nursing bras, let us quickly look at the things you should look out for when you want to get nursing bras.
Of course, you have bras at home, but during pregnancy and breastfeeding, the body changes, and this calls for a change in a central part of your wardrobe – bras. Nursing bras are designed explicitly for the breastfeeding period to meet your needs. 
What Should I Consider When Choosing The Best nursing bras? 
1. Comfort
Nursing bras are like your regular day-day bras that are specifically designed to make your breasts more comfortable as they change throughout the breastfeeding period. They should make you comfortable and be able to accommodate your breasts as they grow. Some of the features you should look out for are wider straps:
 soft inner lining, 

and wider clasps. 
A primary rule is that if the Bra causes any discomfort or hassle the first time you try it on, it'll only worsen during regular wear.
2. Ease
The best nursing and maternity bras have well-built seams and straps. As a nursing mom, you want to be able to undo your bra cup with one hand while holding your baby with the other hand. Look out for a bra with drop-down cups and nursing clips that are easy to unsnap to make it easier. 
3. Fit
You do not want a nursing bra that will give you any stress, and this is why you need to get a fitted bra. A professional fitter can help you with this in a bra store. Experts say it is better to buy at least one nursing bra in a store than use that style to order online.
A tight nursing bra band puts you at a greater risk of plugged ducts or mastitis, so you need to find the right fit for your breast.
4. Material
It is best to look out for nursing bras that are 100 percent cotton or one with a blend of cotton and Lycra (or other stretchy synthetic). Nursing Bra cups should be lined with cotton or any breathable moisture-wicking fabric, and the lining has to be seamless to avoid any form of nipple irritation. 
Look out for nursing bras that are comfortable, easy to wear and pull off, durable, convenient and supportive for you. Then you can add attractive to that list. Even though you want something that will help you while nursing, it is essential that it is beautiful to maintain your self-care. 
Nursing Bras vs Maternity Bras
Many pregnant women and nursing mothers think nursing and maternity bras are the same, but they are not. The difference is not much, and maternity bras are used during pregnancy to support increased breast size.
Nursing bras are designed for breastfeeding moms to make the process easier and more comfortable. Best Nursing Bras 2022
Best Nursing Bras for All-Day Wear
1. Original Nursing Bra- Bravado Designs
This nursing bra by Bravado designs fits into what we look out for in nursing bras. It is made up of breathable organic cotton that gives comfort to nursing moms.
One extra thing is that it is wire-free and stretchy to accommodate your growing breasts. It is easy to open and close because of its one-handed nursing clips.
In addition, the full drop-away cup design allows for maximum skin-to-skin contact while breastfeeding.  
Pros
Great fit

Super comfortable
Cons
Issues with the removable foam cups when feeding.

 Some moms complain about not getting the right fit for their breasts.
Price: $25.64 – $35.00 – Buy it on Amazon
2. Cotton Candy Nursing Bra – Cake Maternity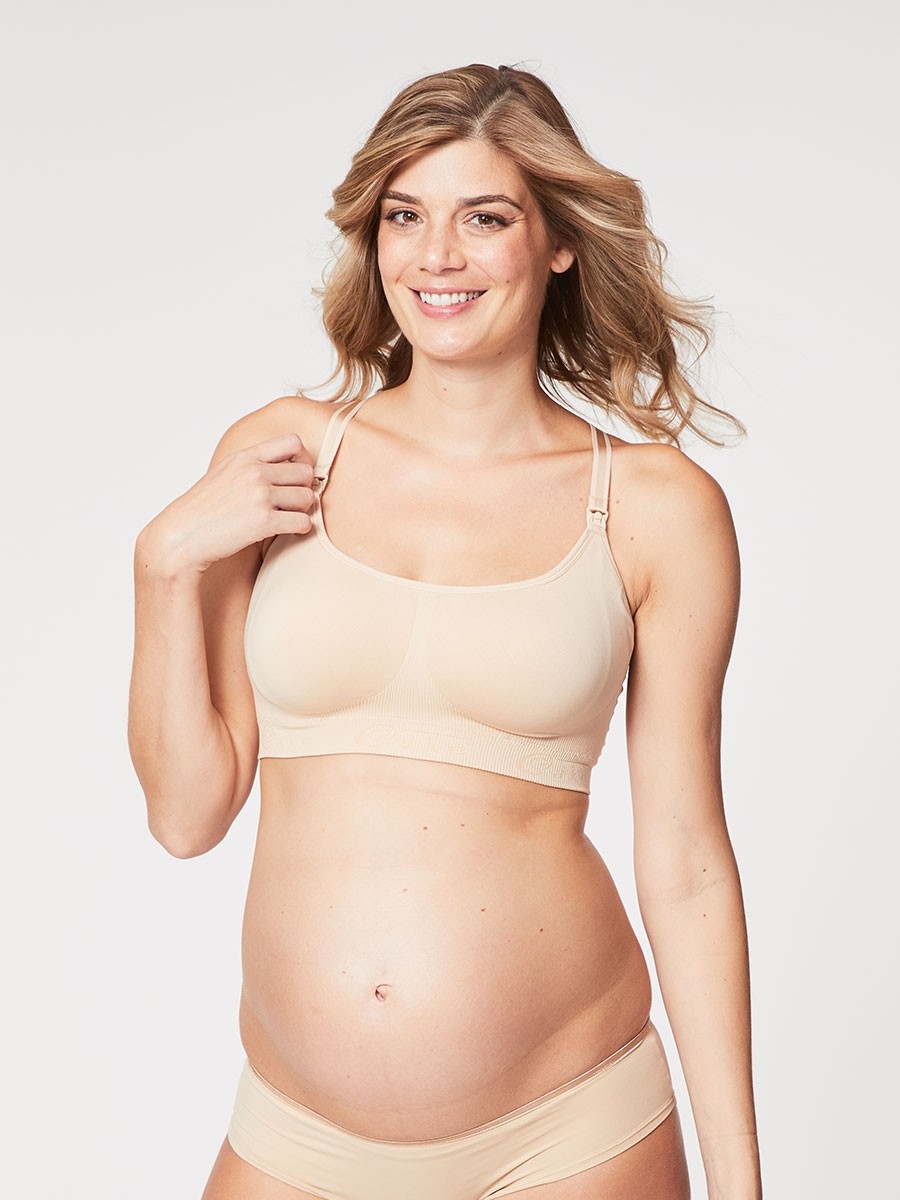 This nursing bra provides comfort, support and functionality without restriction.
It is the ideal Bra for moms that want to engage in activities that are not very strenuous, like yoga or walking. With its stretchy fabric, your breasts can adjust easily as they grow.
It has a wireless bra with built-in features like an adjustable hook, side opening, making this a good option for various size ranges.   
Pros:
Provides Comfort and support

Stretchy fabric that adapts to your changing shape

Easy to wash and dry
Cons:
Some moms complain of sizing issues.
Price: $49.00 Buy it on Amazon                                                                   
Best Nursing Bras for Sport 
3. Gratlin Plus Size Sport Racerback Nursing Bra
This nursing bra is primarily made of cotton with a slight percentage of  Spandex. It is Pull-On closure and supports plus-size moms' needs.
Moms do not have to worry about being active as it provides the necessary support to meet busy moms' needs.
Wireless but has a wide under band with a soft, breathable and stretchy cotton fabric to give you the comfort you need.
The cups cover your breasts fully to prevent side leaking. Moms love it as it provides them with the necessary support. 
Pros
The Bra comes with a pull-on closure that allows for easy wear and take-off

It has front drop-down cups that make breastfeeding and pumping easy.

It is comfortable because of its cotton material
Cons
Plain design

without added attraction to it

so if you want something very attractive, you may not like this Bra.
Price : $19.99 – $21.99
Best Nursing Bras for Plus Size
4. Medela Nursing Bra
I know Medela for their breast pumps and expressing/feeding equipment, but who could have thought they would be one of the best nursing bras. It turns out they do! 
Moms who are nursing love comfort. Medela's nursing bra gives moms the needed support and comfort they need.
The design comes with a criss-cross front and easy to open drop-down cups with one hand for immediate skin-to-skin contact with your baby. It has a racerback style with a wide rib band for comfort.
It is produced with an improved fabric blend designed to pull moisture away from the body.
I love that it is stretchy, which adapts to body changes. One important thing is that the Bra is easy to wash.
This nursing bra is available in white and black and in S, M, and L.
Pros
Medela bra adjusts perfectly to your breast with great support.

 Wire-free, seam-free and tag-free bra for comfort.

 

Super-absorbing
Cons:
Some moms complain of its itchiness.
Price: $11.80 
5. Kindred Bravely French Terry Racerback Nursing Sleep Bra for Maternity/Breastfeeding
If you are looking for an ultra-soft and comfortable nursing bra, this wire-free nursing bra is for you.
It has no hook or snaps, so you worry less. The Bra is stretchy, making it suitable for expanding or growing breasts.
It has a simple crossover design that allows for one-handed, pull-aside breastfeeding. 
Pros
They are very soft 

The bras are comfortable to sleep in
Cons
Some moms complain that the fitness and pads are not in place.  
Price: $34.99- Buy it on Amazon
Best Nursing Bras To Sleep in
6. MOMANDA Women's Lace Nursing Bra Wirefree Padded Breastfeeding Maternity Bralette Cute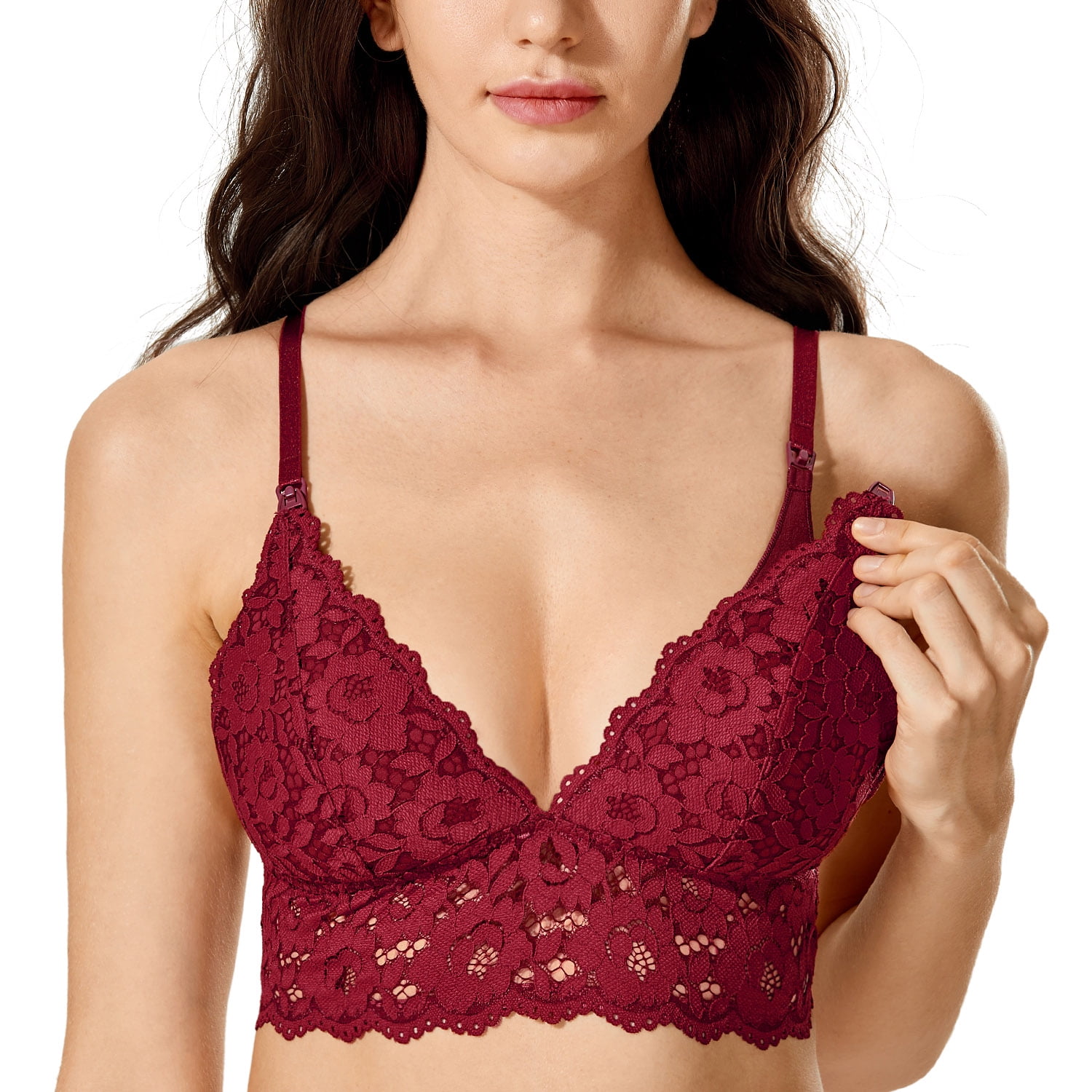 Do you want a cute & sexy nursing bra? 
Then this is for you!
This wireless design with Lace Decoration makes you feel Feminine during motherhood. It is very comfortable and has extra hooks for changes in breast sizes. It also has one-hand open Clips for easy breastfeeding access.
Pros
Easy clipping and unclipping with one hand for nursing.

It is comfortable and easily adjustable.
Cons:
Some Moms complain about the breast cups not fitting well. 
Price: $23.99- Buy it on Amazon
7. Motherhood Maternity Women's Average Busted Seamless Clip Down Nursing Bra
Made by Motherhood Maternity, a best-selling maternity brand, this Bra is a favorite for moms. On Amazon, it is top-rated for its high-quality and affordable pricing.
This nursing bra is made with high-quality fabric and is known for its excellent fit, and this Bra is lightweight and soft while providing strong support for you.
This nursing bra comes with adjustable straps, a nursing clip-down feature, and removable padding and ribbed stitching for maximum comfort and functionality. 
Pros:
It provides full coverage that gives utmost comfort and support. 

Made of ultra-soft and high-quality fabric that makes it gentle on the skin

Light-weight bra with easy clipping and unclipping.
Cons:
The bra may run small in size

Some moms have complained of quality issues, including the snaps breaking after a few uses.
Price: $18.00- Buy it on Amazon
8. Angelhood Women's Seamless Bra
This nursing bra provides full coverage and adequate support for nursing moms.
The adjustable straps and easy drop cups make breastfeeding convenient. It comes in 3-piece Bras and 3-piece matching bra extenders for comfort.
The stretchy fabric allows for changes in breast sizes. 
Additionally, there is also a satisfaction guarantee. Angelhood promises to refund/replace any unsatisfied order. Finally, it is very affordable. 
Pros
Provides full coverage and strong support for moms.

Made of high-quality materials that make it breathable to wear

Satisfaction-guarantee
Cons:
Ordinary hooks that may break easily.

Some moms say the material feels itchy against sensitive skin.
Bras may change after a few machine washes.
 Price: $18.99 – $19.99 – Buy it here
9. HATCH'S V-NECK, JERSEY BRALETTE  
It is Sweet dreams in this nursing bra. The Hatch's v-neck jersey bralette provides the best comfort.
It has no clips or hooks, which helps you to feel comfortable in this Bra all day and night.
The Bra has adjustable straps.
You can easily drop the straps down to breastfeed or pull the Bra down in front. It comes in four colour variations—black, grey, ivory, and a grey/pink combo.
Pros
Supportive Nursing Bra 

Provides comfort to nursing moms
Cons:
Moms may have issues with the Bra's fit. 
Price: $48, Hatch Collection.
Best Nursing Bras – Budget Friendly
10. CAKYE 3 Pack Maternity Nursing Sleep Bra Breastfeeding Cotton Bralette
This nursing bra is primarily made of cotton, making it soft and breathable. It is an elastic-free fabric with pull-on closure for easy wear and take-off.
It has a criss-cross front with easy one-hand pull-aside breastfeeding access and is wire-free.
The elegant classic design makes it suitable even for daywear. This wireless maternity bra has no clasps or hooks, and It is sleep-friendly. 
Pros:
Soft and breathable material.

Super-comfortable.

Allows easy access to breasts for pumping or breastfeeding
Cons:
 

It is not a perfect option if you're looking for a fit and compressing nursing bra

.
Price- $22.99 – $24.99 Buy it on Amazon
11. Lataly 5 Pack Seamless Nursing Bras
The Lataly nursing Bra comes in 5-pack. It is a great budget-friendly option.
This bra style is very convenient for nursing as it clips down to expose your breast.
The stretchy fabric helps with increasing breasts.
This wire-free Bra gives you long-lasting comfort. Lataly nursing bra is equipped with hook and eye closure that provides a secure fitting. 
Pros:
Good convenience

Stretchy Fabric for increasing breasts

Comes in various sizes and colors
Cons:
Nursing Bra may have fitting issues.
Price: $29.99 – $34.99- Buy it here
12. STORQ Everyday Bra
Storq Everyday Bra is a wire-free nursing bra that makes nursing easy with its pull aside feature.
It has adjustable back straps and provides support for moms.
The Bra is comfortable and stretchy. Moms said they have been able to use the Bra beyond nursing, making it a good buy. 
Pros
Easy nursing with pull aside feature

It is wire-free
Cons:
It does not have cup pads. 
Price: $48 – Buy it here
13. Gilligan O'Malley Full Coverage Lace Nursing Bra
Hey Sexy Momma! 
This nursing bra makes you look sexy while making nursing easy and giving you a comfortable experience. Gilligan O'Malley's Full Coverage Lace Nursing Bra offers moms good support and plenty of coverage. If you are on a budget, you might want to try this because it is affordable. 
Pros:
It is attractive and sexy.

Budget-friendly nursing bra
Cons:
 

Some moms complain about the Bra's fitness. 
Price: $10.50 – Buy it here
Most Attractive Nursing Bras
14. Defy The Norm Crop Black Nursing Bra – Hotmilk
One of the things I love about this nursing bra is the name – Defy the Norm. This wire-free Bra allows you to have stylish and confident motherhood.
It is produced using silky recycled nylon microfibre fabric (eco-friendly) with detachable foam pads for shape and smoothing back design with hooks to cross straps for convenient feeding.
This Bra allows you to stay comfortable and slay comfortably as a mom. It has six clips and eye fastenings for extending band size. 
Pros
The Nursing bra provides Full Coverage 

Wire-free bra
Attractive and Comfortable.
Cons
 

It is less affordable compared to other nursing bras
Price: $41.99 – Buy it on Hotmilk lingerie
15. Natori Feathers Maternity Bra
With this nursing bra's underwire, light lining, and plunging neckline, you can keep wearing the styles you love!
It is suitable for maternity and nursing because of its stretchy fabric. You'll appreciate its clip-down straps that make breastfeeding and pumping a breeze.
 Pros
Light lining and stretchy-fabric.
Cons
Some moms complain about the material and fitness. 
Price: $66, Buy it here