16 Best Kiddie Pools for Children in 2022
For parents to keep their young children entertained during summertime is sometimes a big challenge.
While Swimming pools can be a great addition, there are other things to consider, like the expense, safety, space, and portability (You can't take your swimming pool with you for a picnic!). This is why plastic kiddie pools are the best option for many families. They do not take up space. They are quite affordable and safe for kids. 
As a parent, you want to be sure of the plastic kiddie pool you want to get for your little one, which is why we researched the best kiddie pools on the market.
 Our team of experts put into consideration some important features like safety, design, ease of assembly, water capacity, durability, and reviews from other parents when reviewing the best kiddie pools.  This will guide you in making an informed decision on the best kiddie pools for product reviews, which will help you make an informed decision.
Momtherly Top Picks for the Best Kiddie Pools
Best Overall Plastic Kiddie Pool
Intex Rainbow Ring Inflatable Play Center
As far as a plastic kiddie pool is concerned, Intex Rainbow Ring Inflatable Play Center checks all the boxes in terms of budget, safety, durability, sturdiness, and extra fun.
This kiddie pool plastic by Intex features a water slide, two wading pools, multiple activities like two ball games, a built-in sprayer, and a ring toss.
It can contain up to six children and is suitable for swimmers ages two and above.
This Intex play center is not your average plastic kiddie pool. It will keep the little ones entertained and engaged for hours on a sunny day and features many added features at a budget-friendly price.
Features 
Budget-friendly price 

It can contain about six children 

It is only suitable for swimmers of ages two and above 

Two waddling pools 

A water slide 

A built-in sprayer and ring ross
Pros
It includes fun kiddies pool tools like six plastic play balls, a water slide, a wading pool, a water sprayer, and four inflatable rings.

It comes with a landing mat for additional padding

It contains other maintenance materials like a drain plug and repair patch

Affordable

Multi-functional

It can accommodate more than one kid.
Cons
No air pump

No shelter or canopy
Best Non-Inflatable
Intex Rectangular Frame Above Ground Swimming Pool
The Intex Rectangular Frame Above Ground Swimming Pool will never allow your kids to get bored in this summer's heat. Its strong, durable steel frames provide long-lasting durability and transform your porch or backyard into a fun place for you and your children. It is designed to accommodate multiple kids (and even parents) simultaneously.
In addition, this kiddie pool is compact and super easy to assemble. You can set this pool up within 30 minutes, fill it with water, and enjoy hours of unlimited fun.
Even though it holds up great in the sun, you should keep it indoors while not in use.
However, the only downside is it doesn't include any maintenance tools or accessories such as a liner, ladder, filter pump, or cover. Other than that, I'd recommend this swimming pool for kids and families, especially at the price point.
 Features 
A strong and durable steel frames 

No maintenance tools or accessories 

Easy to assemble 

It can accommodate multiple children and even parents 
Pros
Value for money

Easy to assemble

Sturdy and durable

Available in various sizes

It has adequate space for multiple kids and adult family members
Cons
It doesn't include any maintenance tools
Most Affordable Plastic Kiddie Pool
Intex Sunset Glow Baby Pool
Intex Sunset Glow Baby Pool is an ideal option if you are looking for an affordable plastic kiddie pool. It can contain more than two children and helps them splash around and cool off on a sunny day.
In addition, this Sunset Glow Baby Pool fits kids between 1 and 3 years old and does not need too much water to start the pool party.
Apart from being budget-friendly, you can take it with you to the beach, a friend's place, or anywhere around the house.
Moreover, this kiddie pool plastic can function as a ball pit during winter.
 Features 
It is budget-friendly 

Suitable for Babies between 1 and 3 years of age 

It can also function as a ball pit in the winter 

It is easily moved 

It doesn't need too much water 
 Pros
Affordable

Perfect for Young Toddlers

It suits a first-time parent

Versatile
Cons
Best Play Center
Intex Jungle Adventure Inflatable Play Center
Intex has, over time, proven to be a forerunner in the kiddie pool industry, and one of their inventions is the Intex Jungle Adventure Inflatable Play Center.
It is similar to their Rainbow Ring Inflatable Play Center with two pools in one, a ring toss, a water slide, a wading pool, a built-in sprayer, and an inflatable arch.
But this Jungle Adventure pool has a broader space, more activities, and toys (flamingo, monkey, and five wall-fitting balls).
Also, it is more profound than the Rainbow Play Center and comes with a drain plug and a landing mat for extra padding.
 Features 
It is two different pools 

Water slide 

Wading pool 

Built-in sprayer 

Inflatable arch 

It has a broader space 
 Pros
It provides a perfect play center for children

Spacious enough for more than one kid

It features a bigger and smaller pool
Cons
It is pricey

No sun protection

You will need to handle it carefully to prevent a leak or tear.
Best Plastic Kiddie Pool for Babies
FindUWill Inflatable Baby Float-Pool Swimming Ring
If you wish to play in the water on a sunny day and take your baby along, this Inflatable Baby Float-Pool Swimming Ring will provide fun for your little one.
The exciting thing is that you can use this plastic inflatable kiddie pool in your backyard or patio with your baby in it. You can also fill the pool with water and place it in a swimming pool. This way, you can watch, swim and play with your little one.
So, it features an adjustable and removable sunblock canopy that offers sun protection.
We also like that it comes with a steering wheel as it gives a baby the feeling of driving a car while keeping his body in balance.
Generally, what you should find in your package includes an inflatable baby pool float, compact inflator pump, a toy duck, waterproof carry bag, float seat, and canopy.
 Features 
It can be used in the backyard or patio. 

It comes with accessories like a plastic kiddies pool kit 

It includes a compact inflator pump 

It has an adjustable and removable sunblock canopy 

It also comes with a float seat 
 Pros
It comes with some plastic kiddie pool kits

Protects a baby from the sun

It is compact and can also be used on bigger pools

It features a steering wheel for extra fun and balance
Cons
It can only carry one baby in it
Hoovy Baby Pool with Canopy
The Hoovy Baby Pool is perfect for babies and suits parents looking for simplicity.
You can take your baby or toddler outside in the sun with this Hoovy Inflatable Pool. During a hot summer day, this kiddy pool is excellent for any water activities.
An integrated, breathable shade tent will provide your babies with protection from the sun's rays. Additionally, you can remove the tent when the hot weather conditions improve.
Using a pump or mouth, you can inflate the tube quickly.
Like FindUWill Inflatable Baby Float-Pool, this plastic kiddie pool includes a carrying bag for convenient storage and transportation.
 Features 
It can easily be transported and stored because it comes with a carrying bag. 

It features a detachable sunshade. 

It includes a breathable fabric for sun protection 

It is easily inflatable 
 Pros
It comes with a detachable sunshade with breathable fabric for sun protection.

Portable and can go with you anywhere

You can also place it on a built-in swimming pool

It is easy to inflate
Cons
You may need to ensure that the detachable shade is properly fixed.

Not as sturdy as the bigger kiddie pools, but it gets the job done.
Top Inflatable Plastic Kiddie Pool
PERLECARE Inflatable Kiddie Pool
Families can enjoy a swim at home and in the backyard by setting up this simple inflatable swimming pool in just a few minutes. The pool is ideal for family get-togethers and pool parties.
As the above-ground inflatable swimming pool is constructed with three air chambers, it is designed with more PVC materials to withstand the extra weight. The quality material also helps to prevent water and air leakage during use.
These features extend the lifespan and keep the pool in good condition for longer.
Additionally, this PERLECARE model is thicker than your regular inflatable pool body material, adding wear resistance and reducing punctures.
Furthermore, draining water from this PERLECARE Inflatable Pool is a piece of cake as it comes with two tight drain valves, one of which connects to your garden hose. It also includes two repair patches and a user guide.
Features 
It is thick 

It can accommodate many children and parents 

It comes with two repair patches 

It includes two tight drain valve 

Wear resistance 
Pros
It meets the US and International safety standards, including ASTM, CPSIA, and CPC certifications.

Easy to set up, inflate and drain

It has a large capacity for family

Multipurpose use

Sturdy and durable with a thicker body material

Adjustable heights

Cost-effective
Cons
It does not come with a canopy or pump
Summer Waves Quick Set Inflatable Pool with Filter Pump
This Summer Waves Quick Set Inflatable Pool comes with a filter cartridge containing a built-in chlorinator.
It is wide enough to contain you and your children. As much as they love to have their moments, they will also love for you and your partner to join the pool party.
You can enjoy this inflatable pool in the comfort and privacy of your backyard.
It is sturdy enough to last you for years, provided that nothing punches it.
Features 
 It comes with a filter cartridge that has a built-in chlorinator 

It can contain parents too

It is sturdy and durable. 

It can be used in the backyard 
 Pros
Easy setup

Sturdy and durable

It comes with maintenance tools like a filter pump and filter cartridge

It can accommodate children and parents
Cons
Best Kiddie Pool for the Whole Family
Summer Waves Swimming Pool Set
The above-ground round frame pool measures 12 feet in diameter and 2.75 feet deep and provides ample space to fit the whole family. Enjoy this pool in the comfort and privacy of your backyard.
It is made from quality triple-layer polyester mesh and a galvanized metal frame of heavy-gauge PVC material to resist the elements.
Furthermore, this Summer Waves Swimming Pool Set comes with a pump.
The pump works as a skimmer and a filter pump and mounts to the side bars of the pool. This enables easy maintenance and prevents tripping.
Summer Waves Swimming Pool Set includes a GFCI plug and a type D filter cartridge.
 Features 
Includes an SFX1000 filter pump that serves as both a skimmer and a filter pump

One type D filter cartridge, 

An EZP10 bucket containing a blend of pool maintenance chemicals

SureStep ladder to help with access to the pool.
 Pros
Easy to set up

Parents and friends can also have fun with their children in the pool

Sturdy and durable

Comes with pool maintenance kits
Cons
This pool may not be ideal if you don't have a large backyard or compound.

You may have to spend extra time cleaning the pool.
Top Plastic Kiddie Pool with Shade
H2OGO! Splash-in-Shade Play Pool
The Splash-in-Shade Play Pool will keep you cool on those hot summer days! It has its UV-resistant shade to provide you and your children extra protection from the sun's rays!
Above the shade, there's a water sprayer to keep the pool cool. During the hot summer months, this pool allows your children to have a lot of fun splashing around while being protected.
It is almost like having a water park in your backyard or compound.
Despite being lightweight, Bestway Splash-in-Shade Play Pool is sturdy and durable.
It is manufactured with solid, rust-resistant, galvanized metal frames and heavy-duty polyester 3-ply side walls and PVC for extra safety. Your family will enjoy this sturdy pool this summer!
Features 
A robust, corrosion-resistant steel frame with protected connectors is a feature of the FrameLink system.

DuraPlus' three-layer, puncture-proof liner, is made to endure UV radiation.

shade canopy at the top

integrated mister

simple, tool-free assembly

446 gallons of water capacity
 Pros
It comes with a shade

A large space for over three children

It is easy to set up

Sturdy and durable

It features a water sprayer on the top of the kiddie pool's shade
Cons
Expensive

It does not come with a filter
Best Hard Plastic Kiddie Pool
Step2 Play & Shade Plastic Kiddie Pool
If you are tired of the inflatable or soft plastic kiddie pool on the market, Step2 Play & Shade Pool is your best bet.
The Step2 Play & Shade Pool is the perfect companion for a toddler pool party. This durable water activity center will keep kids cool and entertained while playing outdoors with the included umbrella and accessories.
Little ones will enjoy splashing in the pool during water play and watching the attached water wheel spin.
There are two molded-in seats in the shade. The pool bottom is decorated with textured designs to provide traction.
While playing, your toddlers can also benefit from the umbrella that comes with the pool. It nests on the poolside, offering protection from the sun.
In addition, the Step2 Play & Shade Pool includes a fun spinning water wheel and three funnel cups that attach effortlessly to the umbrella post for extra fun.
 Features 
It holds up to 165 lbs (74.8 kg) of sand or 12 gals (45.4 L) of water (water and sand not included).

It includes a beautiful spinning water wheel and three funnel cups that are easy to attach to the umbrella pole for additional play.

Two shaded chairs are incorporated into the structure, and the pool's bottom has traction-enhancing patterns.
 Pros
It is super easy to maintain and use

No need to assemble anything

Comes with play accessories like a spinning water wheel and funnel cups.

It comes with an umbrella to provide shade

Long-lasting durability and sturdiness

It is made of light hard plastic material
Cons
Expensive

It cannot accommodate more than two toddlers
Best For Adults:

Intex Metal Frame Pool with Filter Pump
There is a 12-foot pool from Intex if you need more room for the water play. It has a filter pump to keep the water clean, and it is 30 inches deep. To keep it strong, the sides are made of laminated PVC. Additionally, a ground fault circuit interrupter is included, which will turn the pump off immediately if water accidentally contacts the electrical current.
The simple setup was a big hit with our tester. With three simple steps, you can have it set up and ready to fill with water in just 30 minutes. If you need extra room to swim, it is also available in larger sizes.
Features 
The metal frame above ground pool set, 10 feet by 30 inches

An inexpensive, simple-to-install alternative to more difficult steel-walled pools and a more robust substitute for inflatable ones

Intex's super-tough high molecular PVC, unaffected by gasoline, oil, or salt water, is the PVC used for the walls. PVC is highly resilient to damage from impact, abrasion, and sunshine.

To help keep your water sparkling clean, an Intex 330 GPH Filter Pump is provided.
Pros
There are many sizes 

Simple installation

Simple to maintain
What we don't like 
It needs an ample, flat space
Best Kiddie Pool For Toddlers: Intex Happy Dino Inflatable Play Center
This choice is a play center featuring a pool, slide, and additional activities to keep youngsters entertained, much like the best selection. Its theme and simpler games, including hooping around the dinosaur, are intended for toddlers and preschoolers. It is also simpler to set up because there is only one pool area.
Features 
It is built with strong 12 ga vinyl

includes a water slide and a game of ring toss

The water hose is connected to the water sprayer spout.

extra padding with a landing mat

Pool size: 4.63 inches high and 40 gallons

120 lb maximum weight limit

Age category 2+
Pros 
Fascinating games

Theme for children
Cons
Best Slide Kiddie Pool-  Costzon Inflatable Mighty Bounce House Jumper with Water Slide
This slide is a necessity if your kids enjoy playing actively. To reach the top of the fall, where they fly down into a kiddie pool, your kids must climb up an inflatable wall. They can swim around in the water before they climb back up, repeating the entire cycle each time.
There's little doubt that the neighbors will love this pool. Just keep in mind that it has a 300-pound weight restriction, so you can't ride it with all the neighborhood kids.
Features 
consists of a climbing wall

A curving slide

A sizable wading pool area.

It is made of incredibly robust, puncture-proof 420D Oxford fabrics

Special 840D Oxford is used in the bouncing region to increase its ultimate durability.
Pros
Very suitable for block parties

Puncture-resistant

It consists of a carrying bag
Cons
No blower included for inflation
Best Splurge Kiddie Pool: Little Tikes Rocky Mountain River Race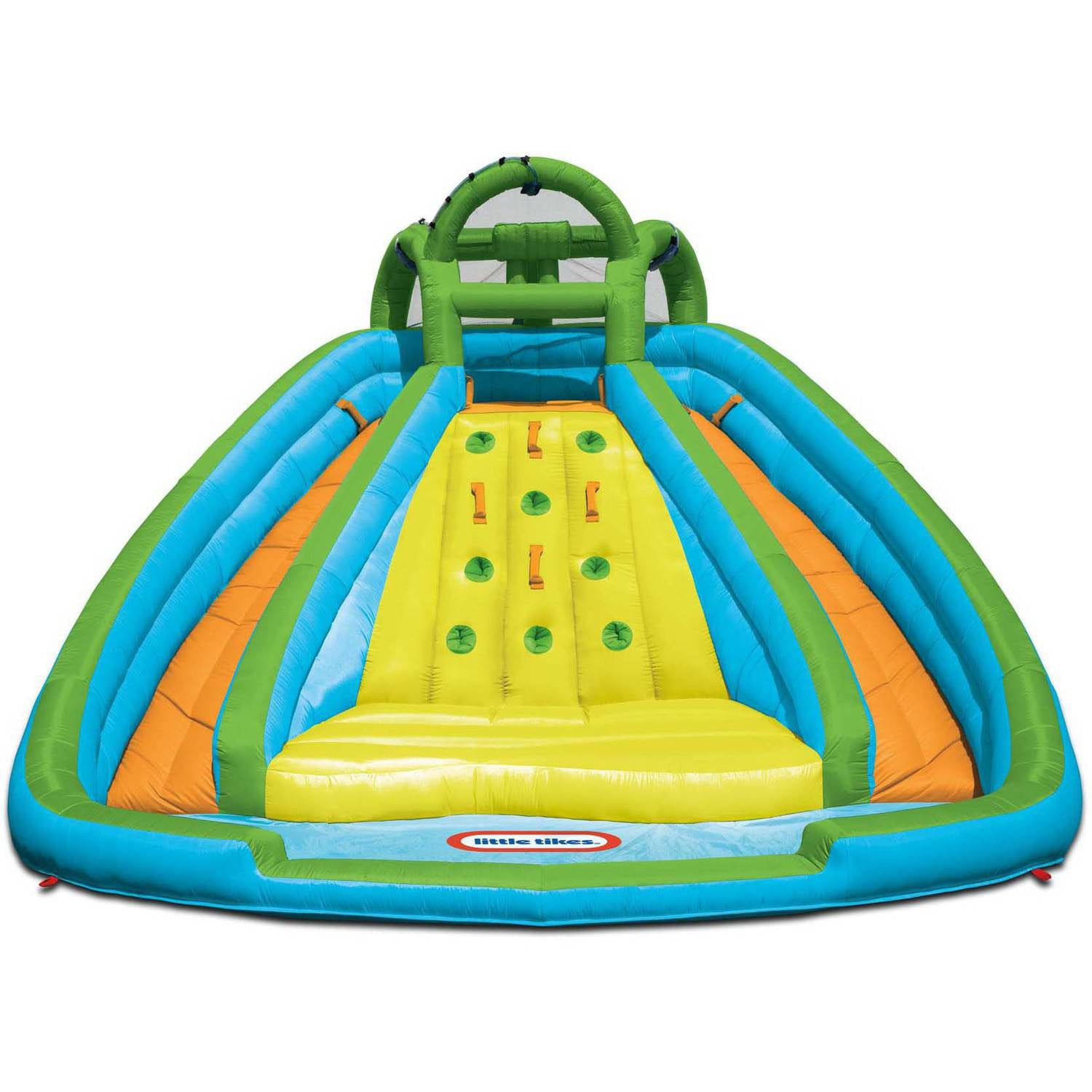 This Little Tikes inflatable pool with a fantastic waterslide is a hit if you don't mind spending a little more. Children can scale the middle wall to its highest point before hurdling down one of the two slides into the water.
This pool is made of sturdy, vibrant plastic and is simple to set up owing to the heavy-duty blower and anchors. We're not kidding—your kids will adore this pool.
Features 
Parents can see the entire action thanks to the water inflatable's design

An unexpected bucket of water drops on youngsters climbing up the middle inflatable rock wall of the outside inflatable water bouncer 

Two slides lead to a large splash pool 

After inflation, the blower must constantly operate while the kids are playing. 

The inflatable must be firmly fastened in position
Pros 
A plus for crowds

Scaling a wall

Slides two
Cons
Costly

Takedown takes a long time.
Best Splash Mat : Banza Ducky Pond Splash Mat
Splash mats are a terrific alternative to kiddie pools to keep your kids cool and entertained but don't necessarily require the depth of the actual pool. They are simpler to set up and less expensive. This one includes toy ducks and even a running sprinkler for children.
Its lovely border of water-filled marine animals serves as a sprinkler, and the pool itself has just the right amount of water for your child to enjoy. The playmat is simple to put together and simply needs a garden hose for quick ways to beat the heat.
Features 
58″ long by 42″ wide Splash mat

Rim that sprinkles water

inflatable fountain with a duck

Stomping pad with water

it is compatible with any garden hose
Pros 
Inexpensive

Sprinklers on the rim

Terrific for compact places

For setup, only a hose is needed.
What we don't like 
No pool, just a flat area

Prone to being highly slick and causing falls
Best Kiddie Pool for the Whole Family: Intex Swim Center Family Lounge Pool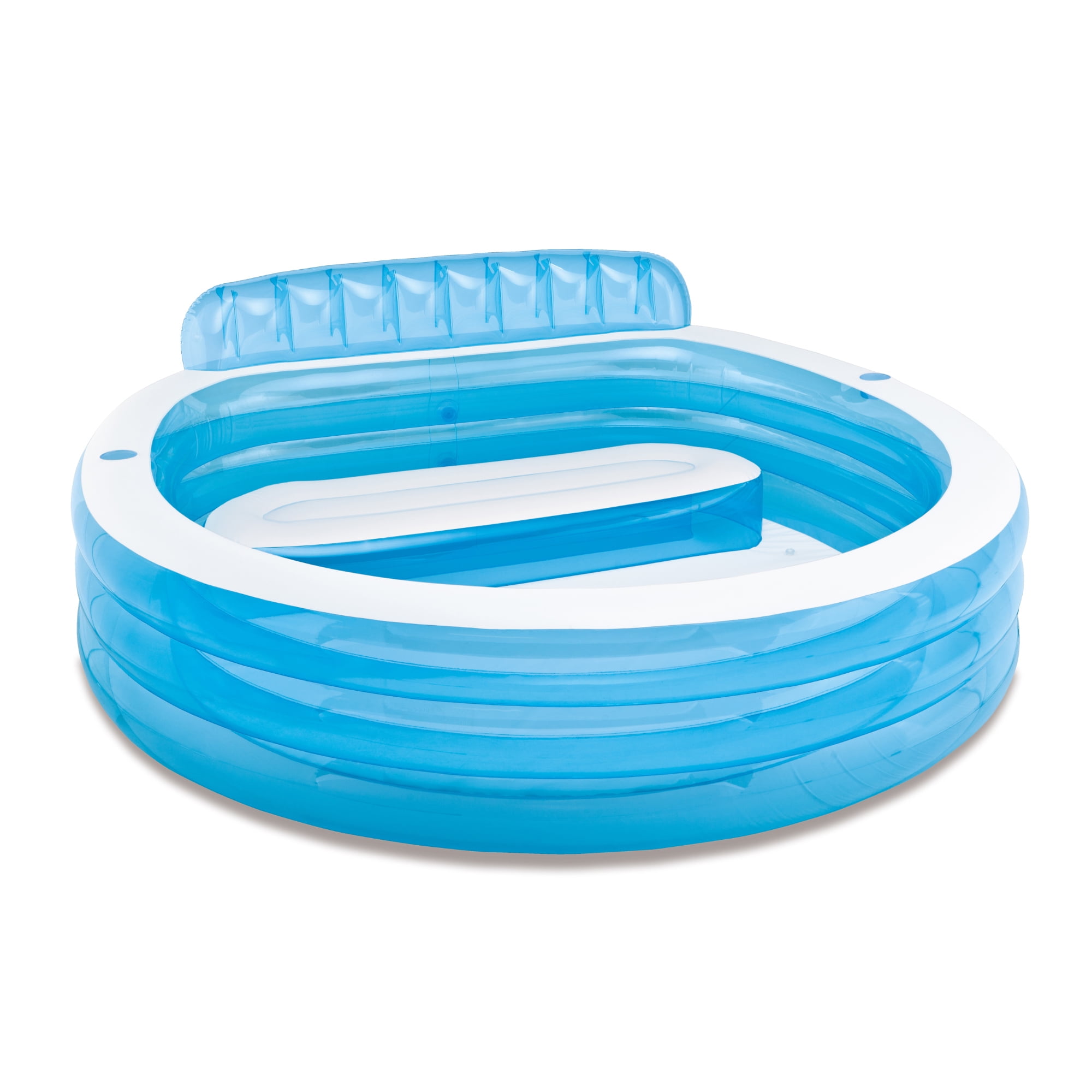 You will adore this sizable inflatable pool from Intex if your family appreciates cooling off together in the summer. Although it has a 500-gallon capacity, the pool can be dumped out at the end of the day without using a pump or chemicals.
With four built-in seats with backrests and two drink containers, this pool was designed with your family's comfort in mind.
Multiple children (ages three and up) or a mix of adults and kids are best suited to use this pool.
Features 
90 "expanded to X 86″ X 31"; vinyl 13 ga; While the kids play in the water, parents relax on the construction bench.

Each with two air chambers; Volume 12.5 "169gal. wall height

Drainage plug patching up
Pros 
Large enough to simultaneously accommodate two adults and two children.

It consists of a drain pipe.

Built-in drink holder and backrest for comfort.
Cons
Daily emptying is required to keep the water in the pool clean

An additional cover would be a good addition.
What is a kiddie pool?
A kiddie pool is a kid-friendly little pool. It typically has a diameter of three to five feet and is composed of hard plastic or inflated material.
Most inflatable plastic kiddie pools are constructed of polyvinyl chloride, sometimes known as vinyl or PVC, which can be pretty challenging to recycle. And because most portable pools don't last past the summer (whether due to rips, tears, or general ugliness), they frequently end up in the trash.
A pool constructed of hard plastic is a fantastic alternative if you want to avoid vinyl kiddie pools altogether. Durable plastic pools will endure longer than their flimsier rivals because they are not inflated. They can last several summers if properly maintained.
Are Kiddie Pools Safe?
Small kiddie pools and water slides made of inflatable or plastic are less hygienic than larger pools, hot tubs, or water play areas. This is because the water in kiddie pools and water slides should not be disinfected with germ-killing chemicals like chlorine or bromine.
You could find yourself searching the outdoor aisles for enjoyable water activities for your kids as the summer months get hotter and hotter. The entire family may cool off and have fun in inflatable kiddie pools or blow-up baby pools, which are also typically far less expensive than pool memberships and much simpler to get to than a nearby lake or beach trip.
Children who aren't feeling well shouldn't be allowed to enter a kiddie pool to prevent the transmission of germs. After emptying your pool, please give it a thorough rinse and give it time to dry completely before putting it away.
How We Reviewed The Best Kiddie Pools
We evaluated user and competitor evaluations and the features of more than 30 items on the market before selecting the top kiddie pools. We considered factors including pricing, design, features, cleaning convenience, age recommendations, pool safety, and material when making our selections.
How to Choose The Best Kiddie Pools
Water Storage
Make sure to check the kiddie pool's water-holding capacity before buying. Some kiddie pools are so large that maintaining the water's cleanliness with chlorine tablets and other chemicals may be necessary, as you would for a regular pool. Naturally, a larger pool will take longer to fill and use more water overall, increasing your water cost.
Age of Your Child
Always look for a pool that is appropriate for the age and skill level of your child.  You probably don't want a newborn to be splashing around in more than one or two inches of water until they are mobile to prevent accidents. Additionally, many toddler pools' sprinkler effects turn off most newborns. Look for a pool designed for younger babies that has some kind of support to keep them upright.
Once your infant can move around, you can increase the water depth by a few inches or try a splash pad with entertaining features like a slide or sprinkler.
Accessories
A lot of kiddie pools are just that—kiddie pools. The market for kiddie pools, however, is vast and filled with extras like climbing walls, slides, and sunshades. Consider kiddie pools with these extra features if you want a kiddie pool with a little bit more. Remember that it could be difficult to obtain hard plastic pools with these extras since most kiddie pools with accessories are inflatable.
Size
You should consider your children's ages, the size of your yard, and the new pool. While older children can tolerate deeper and larger pools, younger children require smaller, shallower pools to lessen the risk of drowning.
Are Plastic Kiddie Pools Worth It?
Plastic kiddie pools are well worth the investment when you make the right decision. In areas where summers are usually hot, a swimming pool will be of great help.
If you want to have fun with your little ones or family on the porch or in your backyard, we highly recommend any of the above kiddie pool plastic. They offer a fun and easy way to cool off during summer.
Additionally, they are budget-friendly because of their low prices, ease of installation, and longevity, some of which have lasted well for over a couple of years.
Frequently Asked Questions (FAQs) about Plastic Kiddie Pool
Are plastic kiddie pools safe?
It depends on how you handle it. Inflatable or plastic kiddie pools can be potentially dangerous and make children ill by spreading germs if they're not properly managed.
In order to ensure your little one's safety, keep a close watch on them when they are in the water.
Additionally, you should know how to properly clean your preferred water slide or pool after use. These will help ensure a safe and healthy experience for you, your children, and other users.
Are kiddie pools worth it?
Yes, they are. Plastic kiddie pools are inexpensive, easy to set up and even simple to pull down.
Kiddie pools provide the perfect way to cool down in the summer and have a lot of fun. Summertime is just not complete without them, and they're a surefire way to stay cool in the shade.
Like you, your children will also love to cool off from the hot weather in an entertaining way. Besides, creating a backyard pool party for your kids provides an opportunity to bond with them.
What does my baby wear in the plastic kiddie pool?
In the pool, your little one can wear a standard baby swimsuit.
In case your plastic kiddie pool does not come with a shelter, you might want to find other ways to protect your kids from the sun.
So, if sun exposure is a concern, you could buy long sleeve suits for them with a little hat to keep the sun rays off their faces.
In addition to swimming wear, make sure you wear your kids' specially designed swim diapers to avoid accidents (including poops and urine) in the water.
How do you keep a plastic kiddie pool clean?
You should drain or empty the pool after each use and avoid leaving the pool with standing water overnight to reduce the risk of acquiring waterborne illnesses.
Once you empty the pool, the Centers for Disease Control (CDC) advises that you clean the pool with a disinfectant.
As soon as it is dry, leave the pool in the sun for at least 4 hours to kill any other pathogens.
Alternatively, use chlorine to keep the water clear. You can use small chlorine tablets that are meant for small pools or spa tubs. They are 1 inch in size. However, you can only use these tabs in kiddie pools with a capacity of 100 gallons or more.
In small inflatable or plastic kiddie pools and water slides, it is not safe to use bleach or pool disinfectant (chlorine or bromine) in the water. Therefore, empty, clean, and leave the pool dry after every use.
On the other hand, larger inflatable or plastic pools may need a filter and disinfection. You don't necessarily have to drain the water every day if you treat it.
Here are other measures you can take to keep your kiddie pool plastic clean
Cover the pool when not in use
Take off floating debris with a net
Keep your children's feet clean
Use a small pool vacuum to clean the bottom
Eliminate sunscreen buildup
Allow the pool or water slide to air dry
Can I use my garden hose to fill up the kiddie pool?
Yes. But since most kiddie pools do not have water filtration systems, we recommend emptying the water after each use and refilling before each subsequent use.
And the fastest and convenient way to refill your pool is through a garden hose.
How long can you leave water in a kiddie pool?
If you use a medium to large inflatable or hard plastic kiddie pool, disinfect it with chemicals, and keep it clean, you can change the water every two weeks.
However, if you use a small kiddie pool or don't like disinfecting the pool with chlorine to kill bacteria, ensure to drain the water immediately after use.
Without chlorine, stagnant water can turn unhealthy in 24 to 48 hours.
Can I put vinegar in my kiddie pool?
Yes. Most small pools do not require chemicals to purify the water. Also, you might not wish to maintain your kiddie pools with chemicals.
Fortunately, there are chemical-free alternatives, and one of them is the use of vinegar.
So, instead of using chlorine, replace it with distilled white vinegar. For every 100 gallons of clean water in the plastic kiddie pool, add 1/2 cup of vinegar.
What size are kiddie pools?
Toddlers and babies will usually need a plastic kiddie pool with a diameter of no less than 2 ½ feet.
Normally, these small pools can accommodate one child, or maybe two if they are both petite.
You can find various sizes of plastic kiddie pools depending on the age and number of people in the pool.
| | | | | |
| --- | --- | --- | --- | --- |
| Size | Shape | Dimensions | Gallons | Capacity |
| Small | Circular | 34.5″ Diameter | 12 | 1 to 2 Kids |
| Medium | Circular or Square | 36.75″ Diameter | 22 | 2 to 3 Kids |
| Large | Circular | 71″ Diameter | 200 | 3 Kids or more |
How to fix a hole in a plastic kiddie pool
For an Inflatable Pool:
Drain The Water
Cut The Patch
Dry And Clean Patch Area
Inflate The Pool
Apply Plastic Glue
Apply Patch
For a hard plastic kiddie pool
To fix a hole or crack in a hard-plastic kiddie pool, get some marine silicon or a hot glue gun and seal the crack or hole.
Use a card or putty knife to even out the silicon and let it dry. A few coats may be needed. Make sure to let it dry after each coat you apply.
If you are still finding it difficult to fix your kiddie pool, use the video below as a guide for inflatable options.
What can I put under a kiddie pool?
Smaller inflatable pools will do just fine without anything underneath them if they are on grass free of debris. You can also choose to put a tarp beneath them, especially on a concrete surface.
As for large inflatable pools, place a pool floor liner pad or ground cloth underneath to protect them from damage from concrete or hard surfaces.
You can also do the same for non-inflatable or hard plastic kiddie pools.
Where can I buy a hard plastic kiddie pool?
You can buy an inflatable, non-inflatable and hard plastic kiddie pool from Amazon, eBay, and Walmart.
Also, check with the local stores around you. Some of these stores sell on these e-commerce websites as well.
I hope that our selection for the best plastic kiddie pool has helped you narrow down your options.
With our guide, you should be able to choose the best kiddie pools with confidence. However, if you have any questions, reach out to us below.
Check out some reviews that you may find helpful.