Best Electric Baby Swings
Looking for a suitable place where you can lay your baby down and be sure they'll be safe, calm, and happy? While you get on with your daily activities, electric swings are the answer. An electric baby swing can relax and soothe your baby, providing them with a happy place to rest. 
Electric baby swings provide a range of motion and speeds that can be customized to move as you do with little noise and soothing music to keep them calm and relaxed. Having researched the best electric swings, we will be listing these electric swings, their features, and their pros and cons. 
MamaRoo Multi-Motion Baby Swing
The MamaRoo Multi-Motion Baby Swing is an electric baby swing that mimics the parents' movement and rhythm. It was built with five-speed settings and four different sounds to soothe your baby. Parents can enjoy a hands-free period while their child observes the environment comfortably. So go ahead and do your tasks knowing that your kid is content nearby with MamaRoo Multi-Motion Baby Swing. 
Another exciting thing about this electric swing is that it has five different parents inspired motions, and it can also be connected to your phone via Bluetooth. 
Features
It has five different speeds and four built-in sounds

It is Bluetooth enabled, so you can easily stream your favorite music to your baby 

It comes with a 4mom app so that you can adjust the settings with your phone. 

Wi-Fi smart home integration

The Maximum weight recommendation is 25 pounds 
Pros 
It is Bluetooth enabled, so you easily play your favorite song for your baby to keep them calm.

It has reversible toy balls, including a rattle, mirror, and crinkle ball.

It is voice-activated with its WiFi smart home integration.
Cons
The swing is a bit pricey. 

Some parents complained about the Bluetooth connection and that it was difficult.

It does not use a battery. 
Electric Portable Baby Swing
This baby swing folds flat and saves space in your car, so it's easy to travel with. With this baby swing, you can gently rock your baby head-to-toe smoothly and quietly, unlike traditional baby swings. The cozy design of this portable swing ensures that the baby is kept safe and secure whenever you are busy. 
Features
It has five different speeds.

It has a 5-point seat belt that helps protects your baby from falling down

It is powered by a USB cable or four pieces of batteries

It has a  2-gear adjustable seat pad that fits the baby's back

It has timing, music, and speed regulations

It is suitable for indoor and outdoor 

The seat is adjustable 
Pros 
The cushion can be disassembled and can be washed by hand or by washing machine.

This rocking chair can be folded and saves space.

The seat belt protects your baby from falling down

It can use a battery and circuit outlet 
Cons
The cord is short 

The seat space is slightly small. 
Graco Simple Sway Baby Swing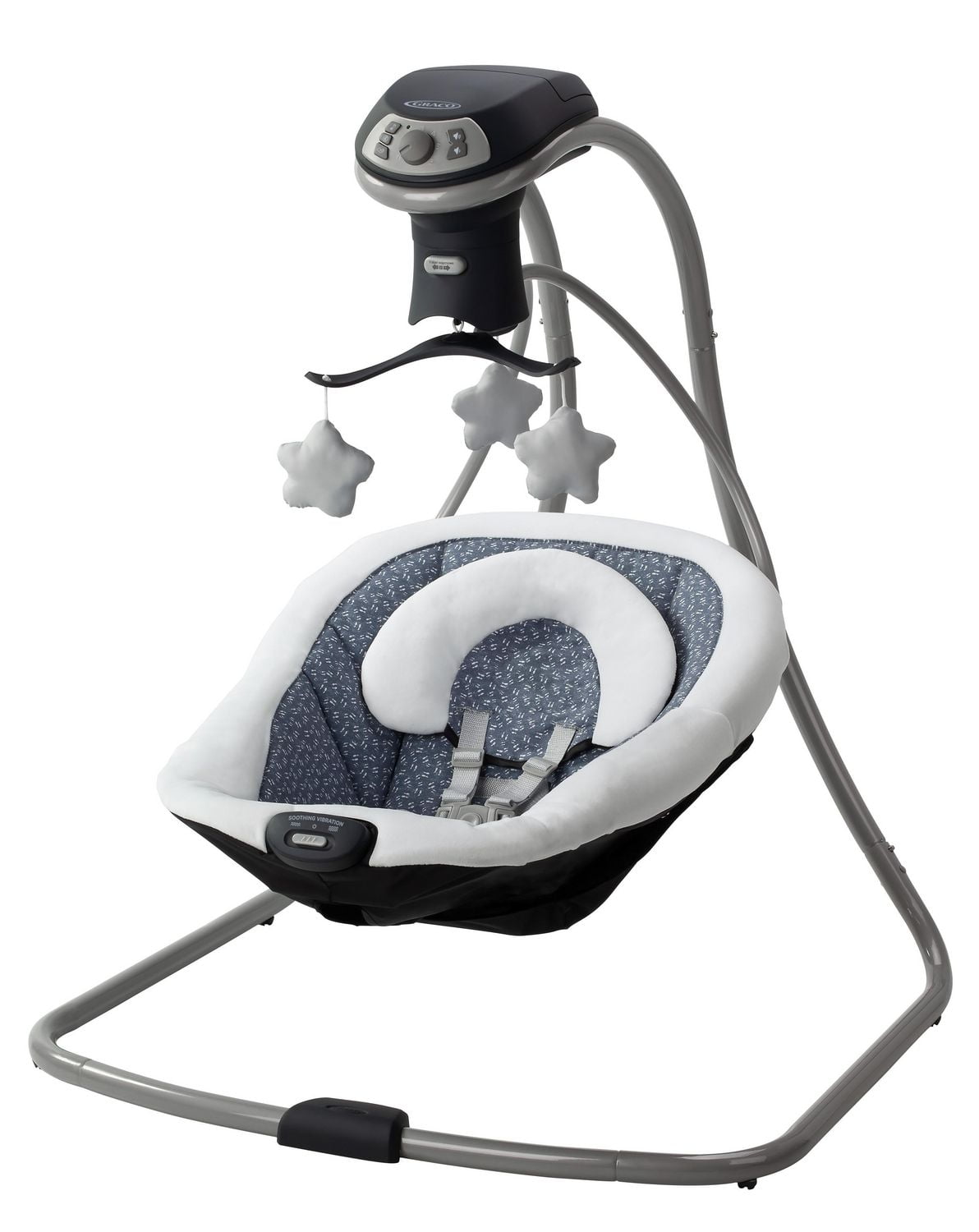 The Graco Simple Sway Swing has all the features to calm and relax your infant. You can adjust it to your baby's preferences thanks to the gentle, side-to-side swaying and six different speeds. The 5-point harness and solid base of the Graco Simple Sway are excellent features for your baby's safety. A baby headrest is also included in the seat for stability. This device is perfect for compact settings without sacrificing safety because of the smaller base. It is easy to put together, durable, and made of high-quality materials. It has two distinct vibration speeds and fifteen sounds and songs. Battery or A/C adapter power options are available for the swing. 
Features
It has Six swings of speed 

Small frame design 

It has a two-speed vibration

It has a plush seat with removable head support 

5-point harness

It has ten classic melodies and five natural sounds to soothe and calm the baby.
Pros 
It comes with a head support to keep your baby comfortable and safe 

It has many speed settings to help soothe your baby 

It can be either plugged in or battery-powered

It is portable, so you can quickly move it 
Cons
It is slightly noisy. 

Some parents said it was difficult to assemble it

The seat has a fixed recline position.
Nova Baby Swing For Infants
Another electric baby swing is the Nova Baby Swing; featuring the latest in technology, design, quality, and durability, it is easy to assemble, use, and maintain. The Nova will be a treat for your baby and for you too. It has a remote control that allows parents to control the product from a distance so that parents can control it from a distance. The Nova swings at five speeds, play ten preset lullabies and has a soft, cozy seat that calms and soothes your child. A good fit for babies between the ages of 0 and 6 months and weighing less than 20 pounds.
Features
It contains five swing speeds and ten preset lullabies

The advanced IMD touch panel and remote control make operating the Nova easy.

5- point harness

It has a soft washable seat cover for easy cleaning

It has three hanging stuffed toys that will keep your baby entertained

It has a protective mosquito net to keep your child secure

The age recommendation for babies between 0-6 months 
Pros   
It has a protective net for outdoor use 

It has a washable seat cover 

It has a high-quality aluminum base that helps to keep your baby secured 

It features Bluetooth and USB connectivity 
Cons
The seat is difficult to adjust. 

It does not vibrate 
Conclusion
Electric Baby Swing was designed to offer all the features you and your baby need in a swing. We have provided you with suitable electric baby swings that are very effective, which my team and I researched to make available for you and your baby.